Whilst the Forex market offers a lot of trading opportunities, often traders will be looking for other ways to find potential trades.
The indices market can offer you a whole new stream of markets to analyze and look for trades. These markets can also allow you access to a far broader market outlook than individual Forex pairs.
Why Trade Indices?
Indices markets can enable you to gain exposure to a wide variety of markets.
Whereas when trading a Forex pair you are trading between two currencies, when trading an index you are trading a range of instruments that make up that index.
An example of this is the S&P 500 index. When trading this index you are trading the stock performance of the largest 500 companies that are currently listed on stock exchanges in the United States.
Whilst you could buy every single one of those 500 individual stocks, it is far easier to just trade the one S&P 500 index that tracks their performance.
Another large benefit to trading an index is that you will often be allowed to use leverage.
Just like when trading Forex, most brokers will allow you to leverage your positions. This will give you the opportunity to put down smaller investments and also use more advanced risk management strategies.
A major positive that draws many people to the index markets is that traders can very easily 'short' sell the market. This enables you to profit from both rising and falling markets.
Different Types of Indices
Whilst stock market indices are the most well-known and commonly traded, there are other types of indices. These include; fixed income, different sector indices and volatility indices.
Some indices will allow you to track and trade the performance of different sectors whilst others will allow you to trade the performance of different equity and stock markets.
Major Stock Indices in the World
Trading stock market indices is the most popular form of indices trading around the globe.
When trading stock market indexes you are looking to trade markets such as the Dow Jones or the S&P 500.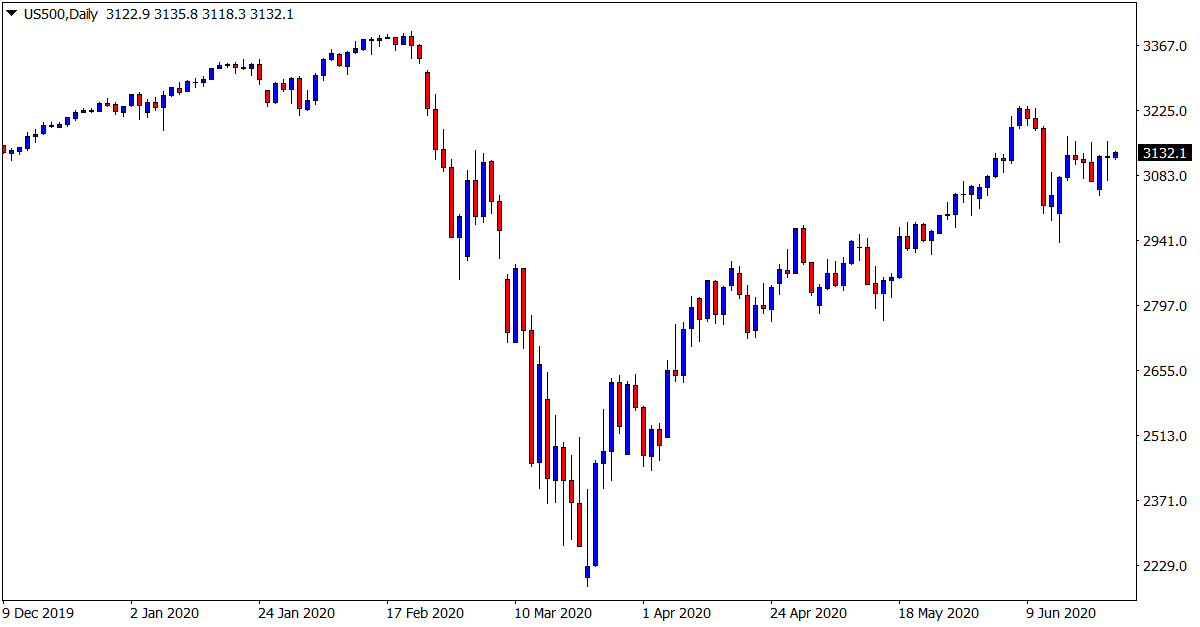 There are thousands of different stock market indices around the world and each country has different indices for their own stock markets.
Some of the major world stock indices are;
Major Stock Indexes in the World
S&P 500: 500 Largest companies US
Dow Jones: 30 largest companies US
ASX 200: Australian stock market index
DAX: German stock market index
Nikkei 225: Tokyo stock market index

Whilst this is a short list of some of the major world index markets, there are many others you may find useful to add into your trading.
Other sectors have their own index markets that you may find better to analyze and trade at certain times. You also may want to trade on the performance of smaller cap stocks rather than the large cap stocks. 
If looking to do that you could then use an index like the the Russell 2000 index. This index is made up of 2000 smaller capitalization companies.
Trading Indexes vs Forex
Both the Forex and index markets come with their positives and negatives.
The Forex market offers a lot of trading opportunities where you will be able to find many potential trades.
When trading in the Forex market you can also use high leverage to manage your trading positions which can mean it is a great market for day traders and scalpers.
If you are looking to gain exposure to broader sectors and the performance of overall stock markets, then index trading could be for you.
Index trading is often more suited to traders who have a longer term view and are not looking to take advantage of the explosive intraday moves that often come with the Forex market.
Indices can also be used as a great way to hedge against other trading positions or look to profit from both rising or falling stock markets.