Arbitrum Price Forecast: September 19
The Arbitrum (ARBUSD) is on its way to the overhead trend levels and also looks good for a buy at the $0.821 resistance value. Based on the outlook, should the bulls push higher and close above the $1.039 high mark, a bullish breakout confirmation will reflect the improved market sentiment and this might push the coin price to the $1.150 upper supply trend level.

Key Levels:
Resistance Levels: $1.000, $1.050, $1.100
Support Levels: $0.800, $0.700, $0.600

ARBUSD Long-term Trend: Bullish (4H chart)
The ARBUSD market remains bullish on the higher time frame. This is clear as we can see the prices trading above the two EMAs and also looks good for a buy at the current price level.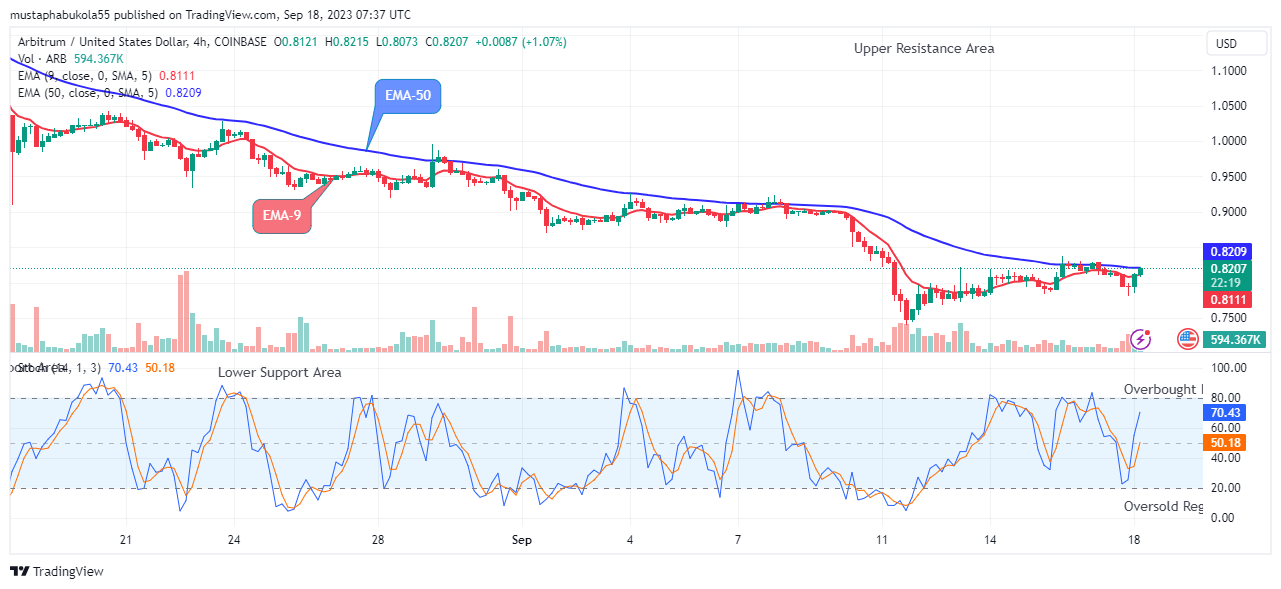 The bulls' activity at the $0.817 supply level in the previous action has made the coin price remain strong above the supply trend lines in its recent high.

The Arbitrum price on the 4-hour chart today is currently facing the overhead resistance and trading at the $0.821 correction level.

This breakout would be a better signal of a bullish recovery and may push the prices to the $1.039 previous supply mark which would retain the recovery pattern for a longer period.

Meanwhile, the market price of ARBUSD is pointing up on the stochastic, which means that the selling pressure has reached an exhaustion, the expected upside move in the price could be high at $200.00 value which also looks good for buying in the coming days in its long-term outlook.

ARBUSD Short-term Trend: Bullish (1H chart)
The ARBUSD pair is trading in a bullish market in its short-term outlook. The coin looks good for a buy position at the current price above the supply trend levels.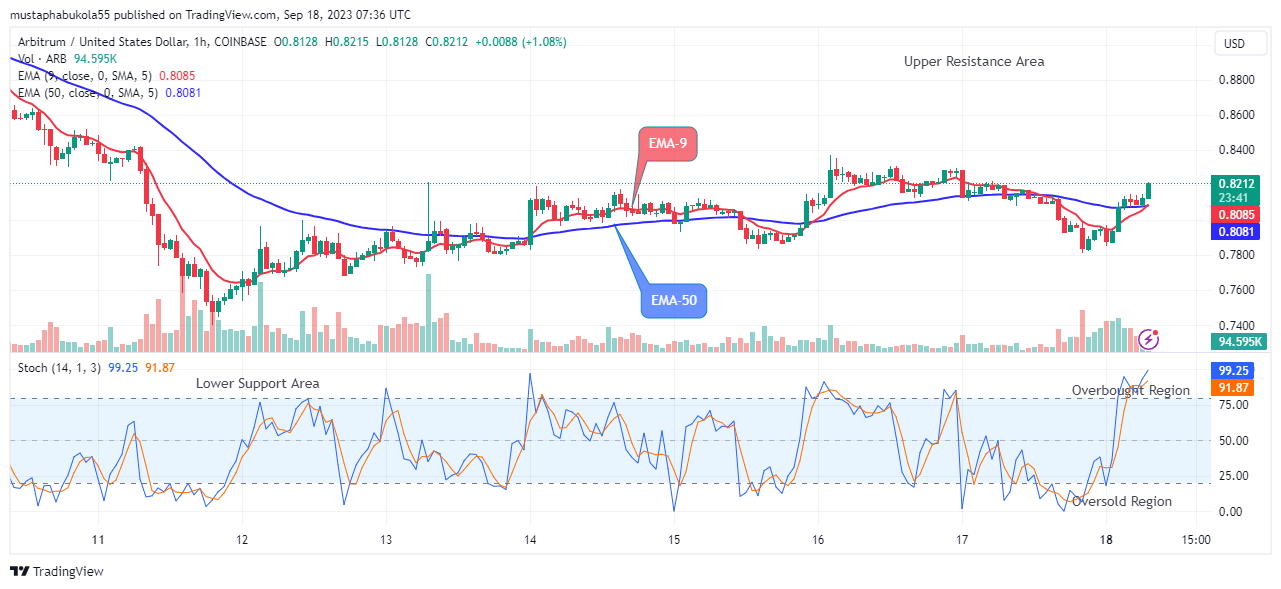 The coin was able to reach a high of $0.796 level in the previous action; this has made it possible for the crypto to remain above the resistance levels in its recent high.

The coin price finds a reliable resistance at around the $0.821 mark above the two EMAs, resulting in intraday gains as the 1-hour session resumes today. Therefore, if the bulls increase their tension in the market, the price tendency will move above the key levels.

Furthermore, Arbitrum price is in an upward direction as indicated by the price indicator, this implies a high possibility for bullish trend continuation.

As a result of that, the coin price might swing up to its recent swing high, which is the $0.863 supply level and this may possibly increase to the $200.00 supply mark in the coming days in the short-term outlook.

Place winning Arbitrum trades with us. Get ARB here