Arbitrum Price Forecast: May 25
ARBUSD is making positive moves and looks promising at the $1.171 resistance value as it faces the upper resistance area. The cryptocurrency can swing up further and test the supply level of $1.504. Should the bulls increase their pressure, the resistance level of $1.171 may not hold and it may extend to a $2.000 upper resistance level and beyond.

Key Levels:
Resistance Levels: $1.650, $1.750, $1.850
Support Levels: $1.350, $1.250, $1.150

ARBUSD Long-term Trend: Bullish (4H chart)
ARBUSD indicates an upward trend with a bullish sentiment in its long-term perspective. The coin is trading above the level of $1.129. The market is presently facing resistance at the recent high.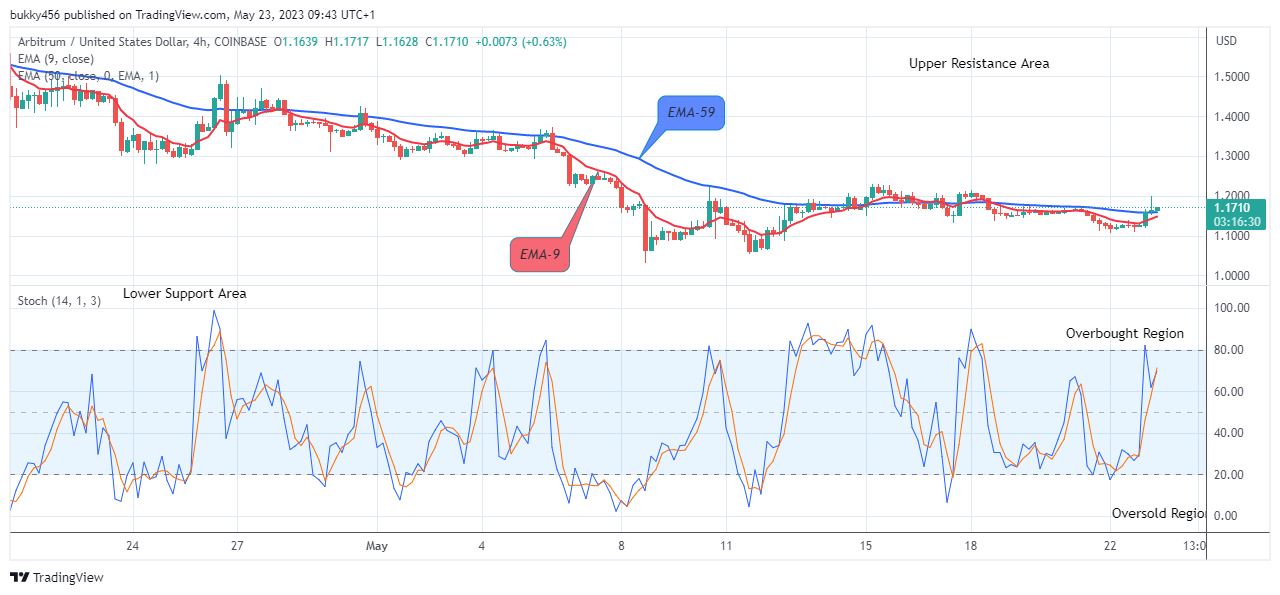 The previous action at the $1.129 high level during yesterday's session has sustained the coin price to remain above the trend line in its recent price level.

The bulls' action increases the price of Arbitrum up to the $1.171 resistance level above the supply trend levels as the 4-hourly session opens today. A break above the $1.426 value would intensify the buying pressure on the crypto.

Further, if the coin buyers could hold above the $1.504 high mark and close a candle, closing above the mentioned resistance will signal a potential BUY. As a result, the price could pump or surge upsides to hit the $2.000 upper resistance value soon in the coming days in its long-term outlook.

ARBUSD Medium-term Trend: Bullish (1H chart)
On the medium-term outlook, the ARBUSD pair is in a resistance zone. Firstly, the crypto has broken above the two moving averages which indicates a possible rise of the pair. The price, wavering above the moving averages indicates the high impact of the bulls.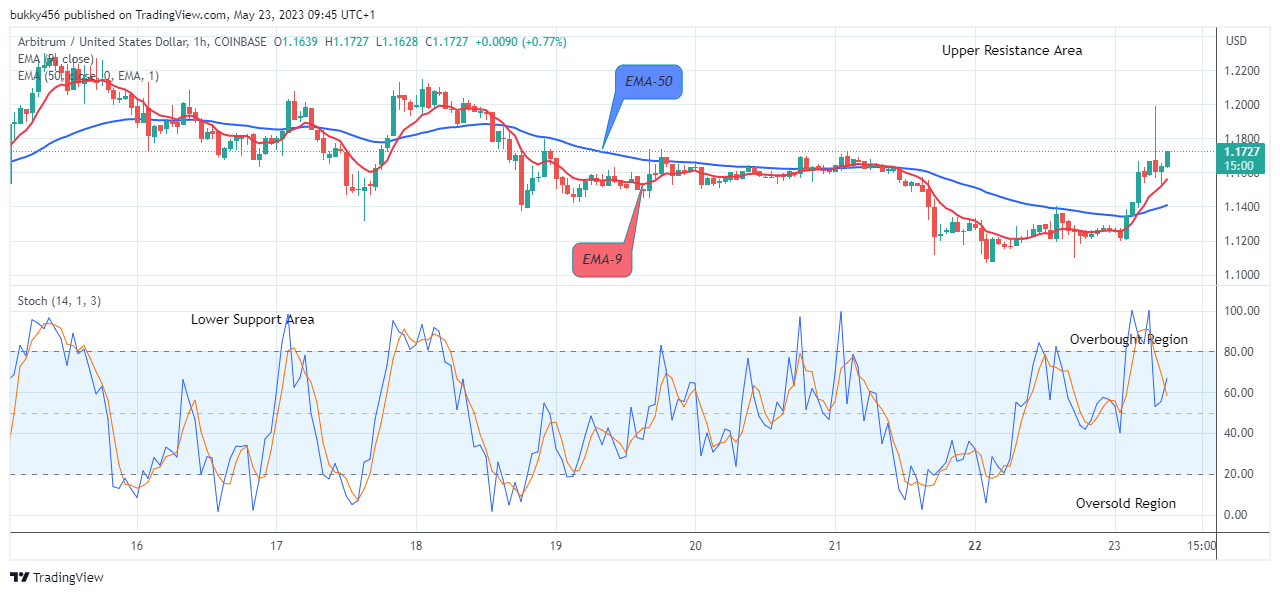 The coin made it to the $1.129 high level during the previous action and has made the price remain in green above the trend levels in its recent high.

The market price of Arbitrum is currently trading at the $1.172 supply level above the moving average lines as the 1-hourly chart resumes today. This means that the bulls are in control of the market at the moment.

Hence, the daily signal indicates an uptrend, based on the outlook, should the bulls push higher and close above the $1.230 high mark; a bullish breakout confirmation will reflect the improved mark sentiment.

Doing so will offer a higher footing for buyers to prolong this recovery. Thus, a post-retest rally may drive the prices high to hit the $2.000 upper resistance trend levels in the days ahead in its medium-term perspective.

Place winning Arbitrum trades with us. Get ARB here