Arbitrum Price Forecast: October 3
The price action in the Arbitrum market seems rising and opens for a bullish expansion despite the activities of the bears. The coin price will most likely continue its bullish run and the price could still go higher if the bulls are able to break up the previous swing high at $0.945 value, then we can expect a good upside momentum up to $1.000 upper resistance level and beyond.

Key Levels:
Resistance Levels: $1.550, $1.650, $1.750
Support Levels: $0.900, $0.850, $0.800

ARBUSD Long-term Trend: Bullish (4H chart)
ARBUSD is in a bullish trend market and remains open for a bullish expansion in its long-term perspective. The prices are traded above the moving averages which has confirmed is bullish trend.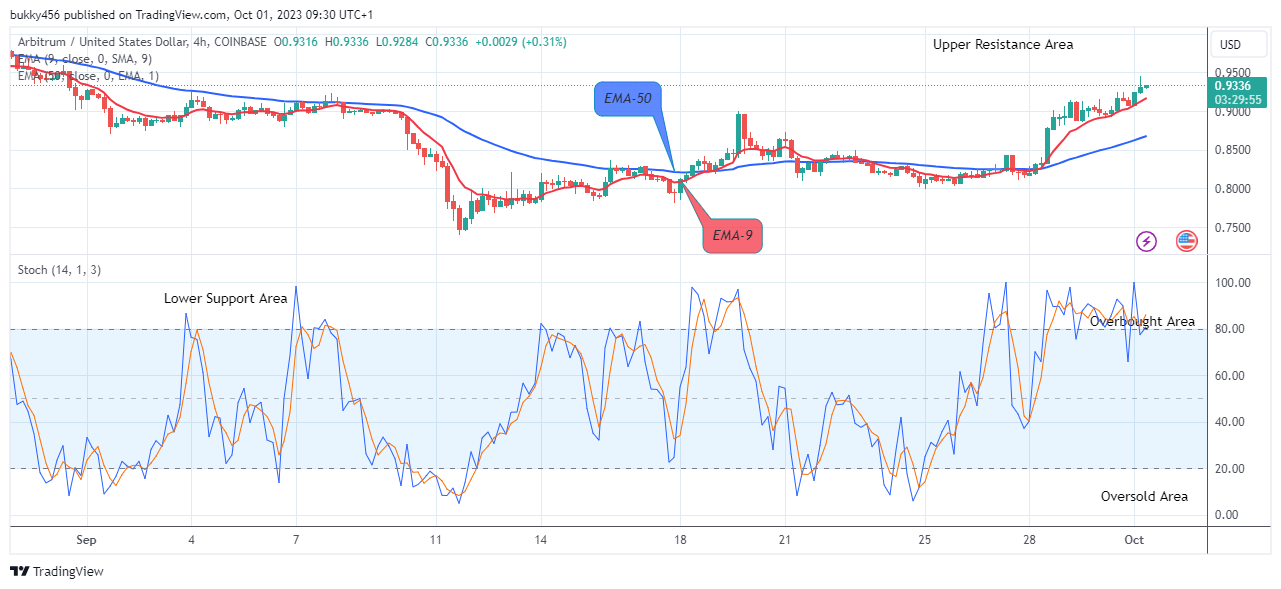 The crypto remains open for a bullish expansion and looks good for the bulls. There are multiple possible targets at this point, but either way, the pair looks quite bullish here.

The pressure from the bulls with a long bullish candle to the $0.901 supply value during yesterday's action has sustained the price of Arbitrum above the supply trend levels in its recent high.

The bulls' activities caused a rise to the $0.933 high level above the moving averages as the daily chart opens today, this is an indication of more forces from the buy traders and bullish commitment.

Based on the outlook, should the bulls go higher and close above the $0.945 high mark, a bullish breakout confirmation will reflect the improved market sentiment.

Notably, the momentum indicator also signaled up indicating an uptrend. Buyers are expected to continue with the trend and in this case, the price of ARBUSD might possibly reach the $1.000 upper resistance value soon in its long-term perspective.

ARBUSD Short-term Trend: Bullish (1H chart)
ARBUSD indicates an upward trend with a bullish sentiment in its medium-term perspective. The coin price is opened for a bullish expansion and also trades above the level of $0.931 at its recent high.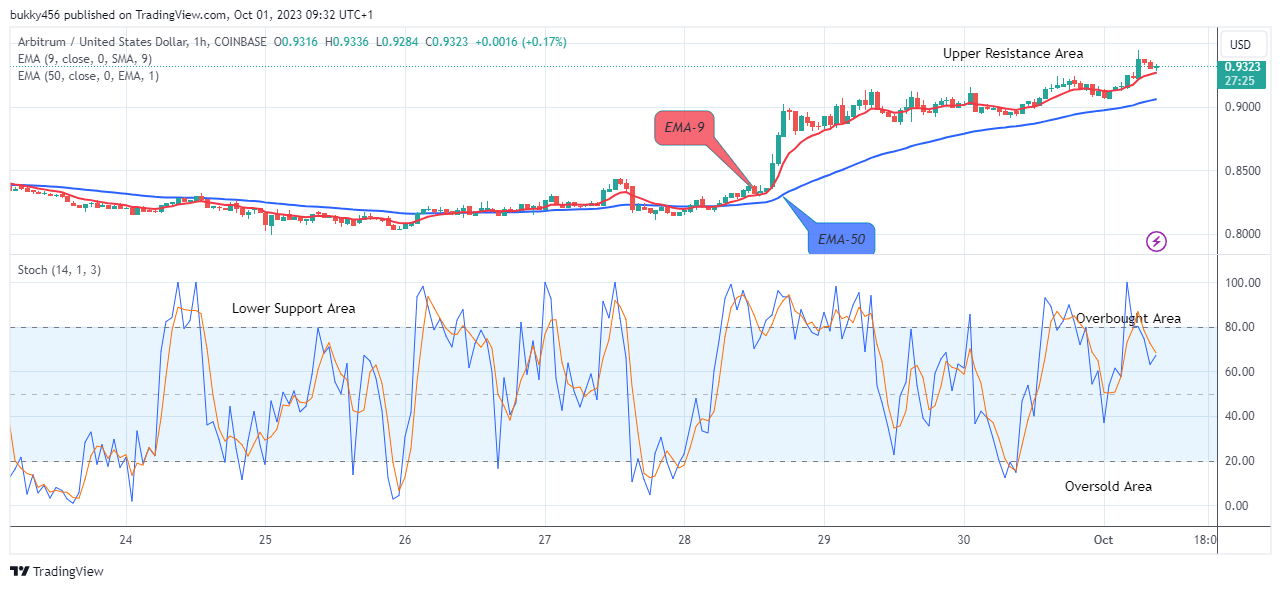 The coin price rises significantly above the resistance trend lines at the $0.933 level as the 1-hourly chart begins today. This is due to a high bullish impact on the market price.

Hence, Arbitrum is showing more upside possibility as indicated by the daily stochastic which is pointing in an upward direction.

We can certainly expect more gains and strength from the coin as the bulls continue to dictate the market conditions. The pair may likely reach the $1.000 resistance level in the days ahead in its medium-term perspective.

Place winning Arbitrum trades with us. Get ARB here