You can find and trade a lot of different bullish candlestick patterns. However, not all bullish candlestick patterns are created equally.
In this guide we look at the most popular bullish candlestick patterns that you can quickly find and use in your trading.
These are also the candlesticks that form the most often and you will be able to very easily identify.
Bullish Engulfing Bar
To be valid, the engulfing bar can engulf multiple candles, but to be considered an engulfing bar it must as a minimum completely engulf the previous candle.
Traders can often get confused with the different candles and wicks when it comes to the engulfing bar.
It should not be confusing. The engulfing bar should have a higher high than the previous candle and a lower low. 
This takes into account both the candlestick wicks and the bodies of both candles.
The example bullish engulfing bar shows this below.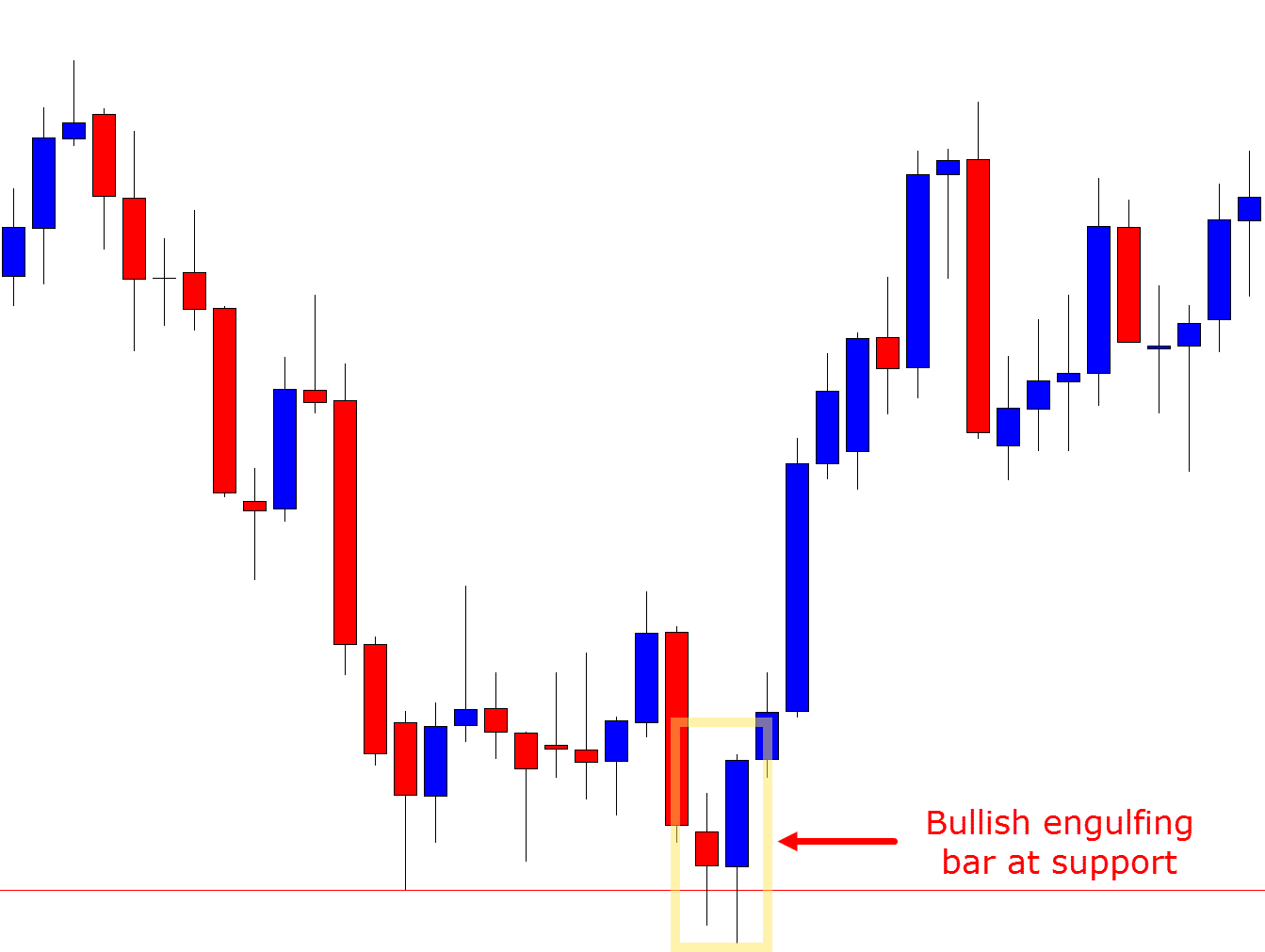 Notice how this engulfing bar shows the momentum changing and by the end of the session the bulls were in full control with price engulfing the entire previous candle.
Read more about how to find and trade the engulfing bar here.
Bullish Pin Bar
The pin bar is one of the most popular candlesticks traded in the markets today.
When traded correctly and from the best places in the market it can be a high probability trading signal.
The chart below shows an example of a bullish pin bar reversal.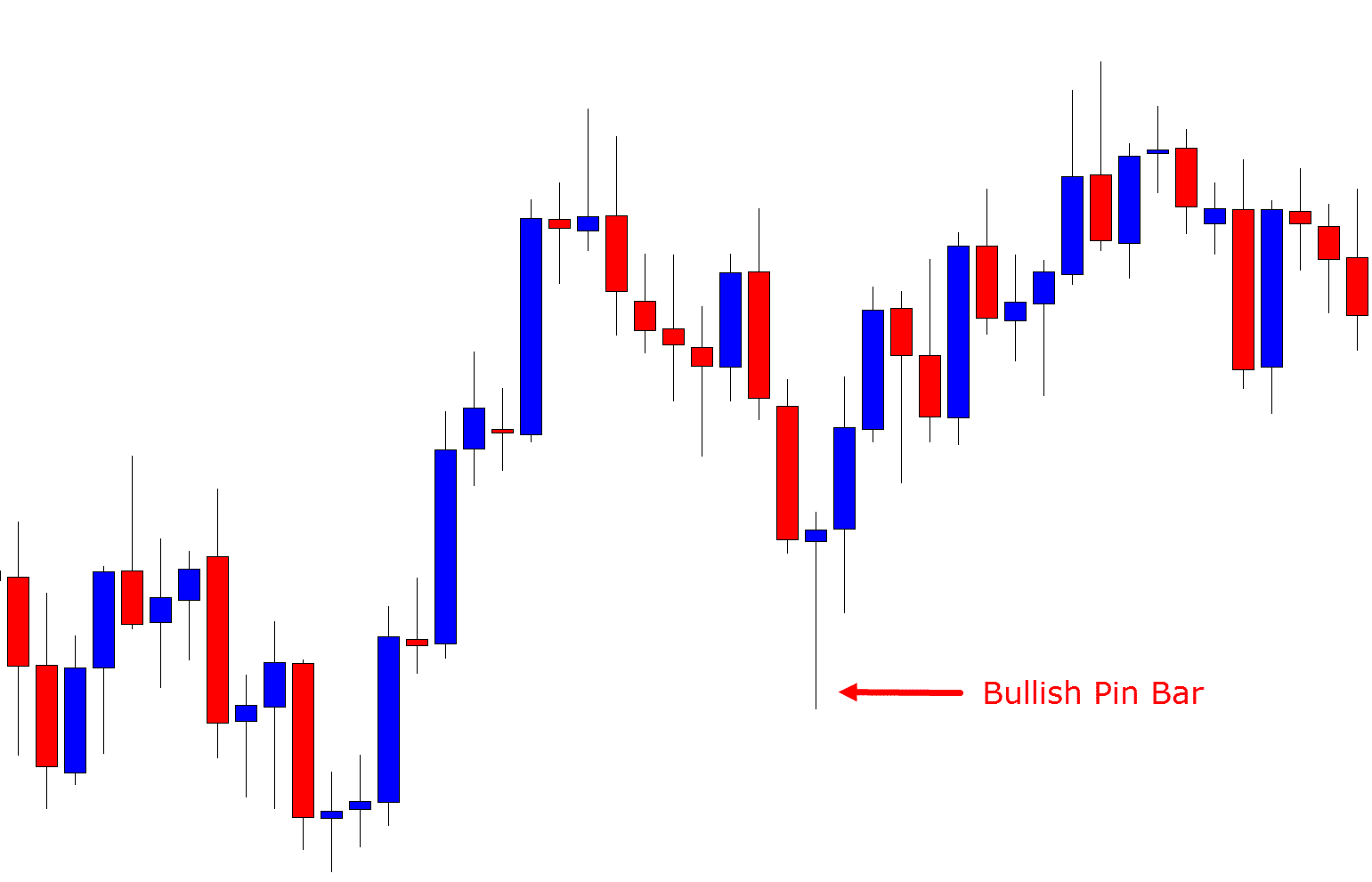 Note the large lower candle wick and how this wick rejects lower prices.
This rejection shows a bullish reversal and hints at new higher prices to come.
As this pin bar example shows; it is important where and how the pin bar forms. You can read more about how to trade the pin bar here.
Bullish 2 Bar Reversal
The bullish 2 bar reversal is very similar to the pin bar reversal.
The main difference between these two candlesticks is where the pin bar forms over one session, the 2 bar reversal forms over two sessions.
If you were to combine the two sessions together you would normally see what would look like a pin bar reversal.
As the example bullish 2 bar reversal shows below; price starts off with the price selling off lower. By the end of the second candle the bulls (buyers) had completely taken control and reversed price back higher indicating a change in momentum.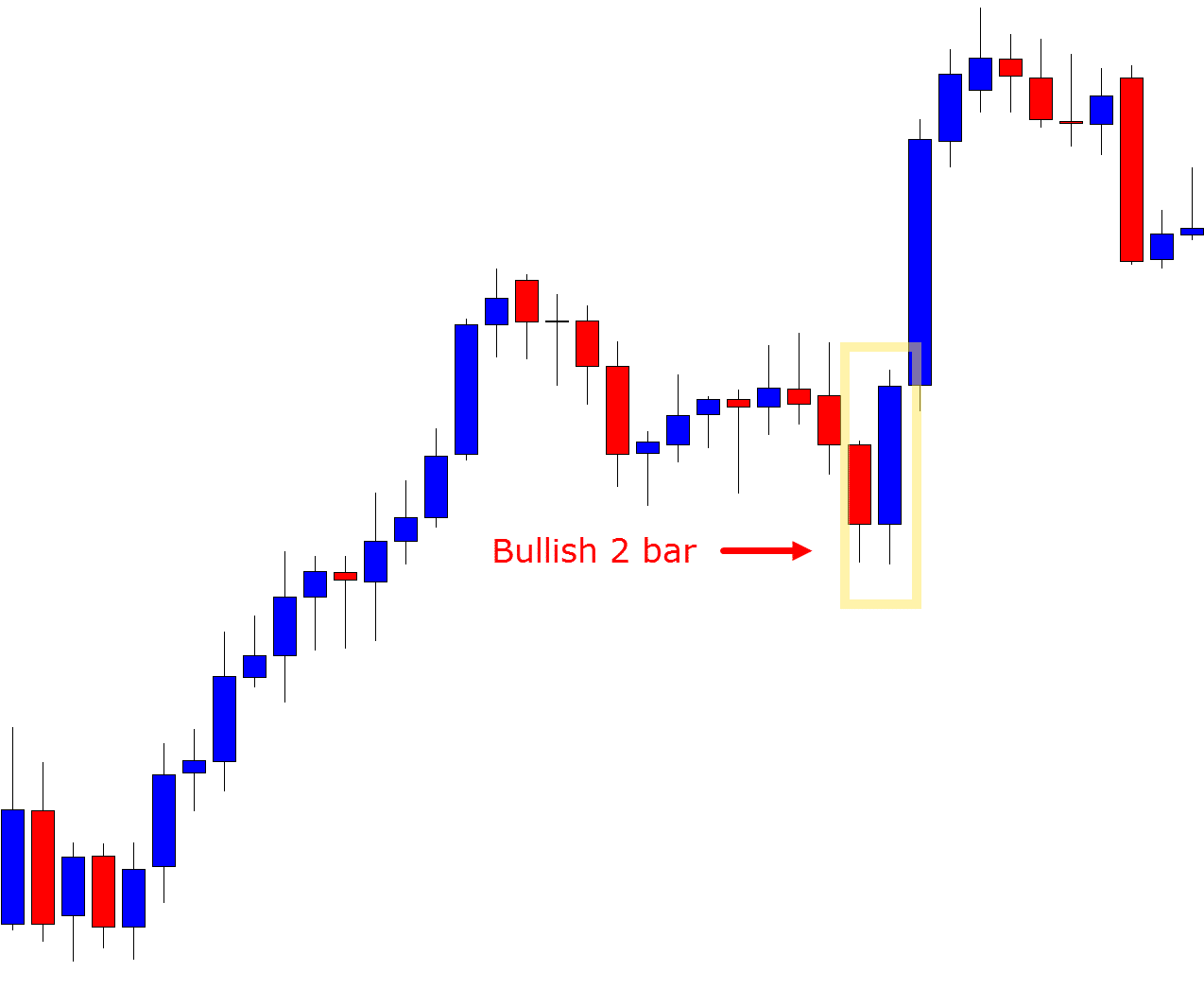 Lastly
Whilst these are three of the most common and easier to identify bullish candlestick patterns, there are many, many more.
There are also many other patterns such as the double bottom or 1,2,3 reversal patterns that are not just one or two candlestick patterns that can indicate a potentially new bullish movement.
Make sure to find the candlestick patterns that suit your trading style the most and master those before looking to add more advanced strategies into the mix.