Prior to the bullish breakout, the D2TUSD market had undergone a period of consolidation characterized by candlesticks displaying significant upper and lower shadows. This observation implies active participation from both the demand and supply sides. The bullish momentum started to assert dominance on September 16th, as the market decisively broke free from the price stagnation around $0.00600, surging toward the $0.0065 level.
Key Levels
Resistance: $0.010, $0.011, and $0.012.
Support: $0.005, $0.004, and $0.003.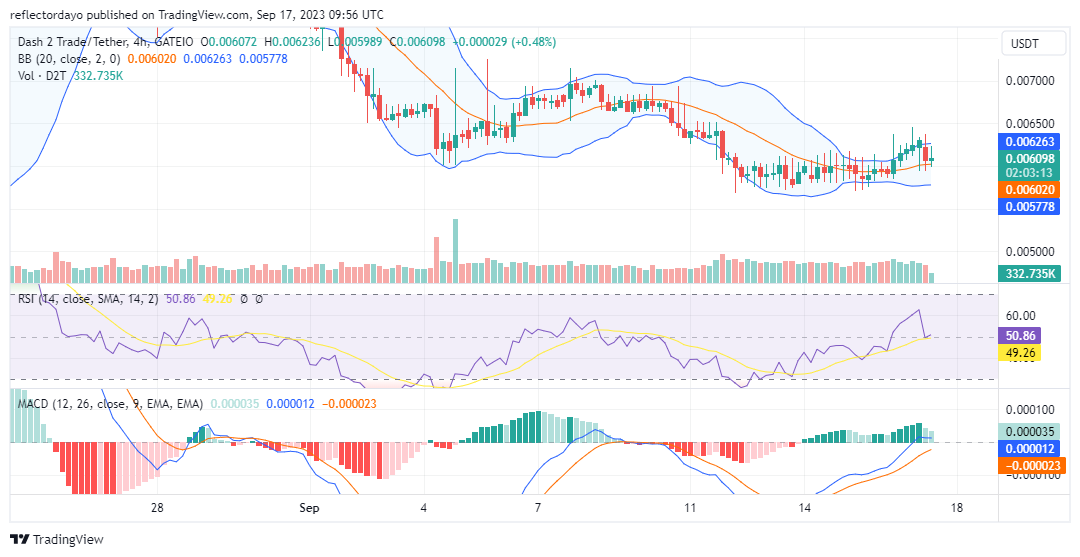 Dash 2 Trade (D2TUSD) Price Analysis: The Indicators' Point of View
The current D2TUSD market behavior reflects an increased level of volatility, which can introduce excitement and opportunities for traders. To confirm the bullish breakout, it's crucial to observe a notable uptick in trade volume, which currently strongly supports the market. When we witness substantial histogram growth, it signals the potential sustainability of the uptrend.
Moreover, aside from the volume of trade indicator, several other indicators are aligning with bullish market sentiment. The Relative Strength Index (RSI) is displaying resilience, consistently rebounding from the pivotal 50 level. Additionally, the Moving Average Convergence and Divergence (MACD) indicator has recently crossed into bullish territory, further bolstering the positive outlook.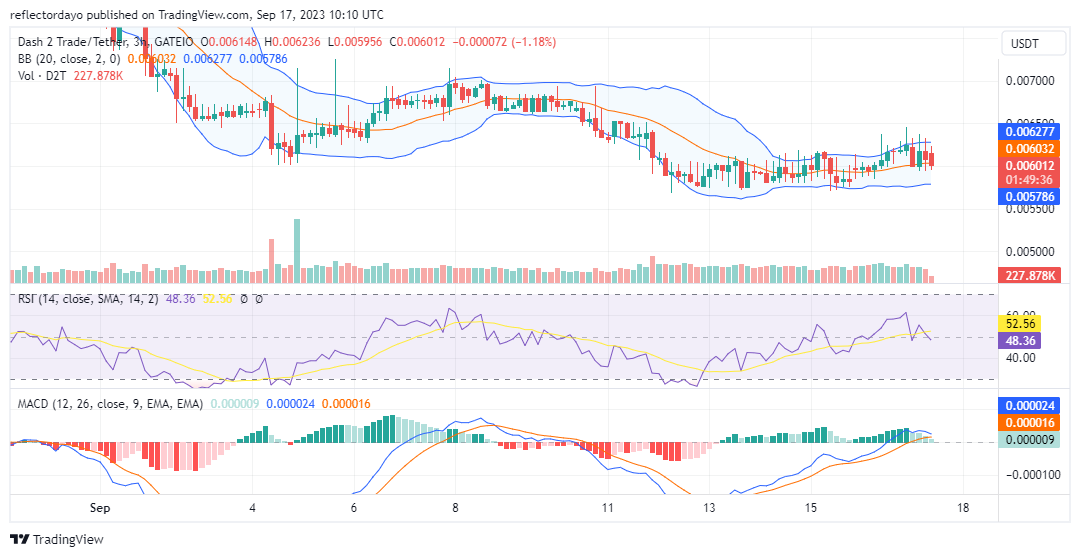 D2T/USD Short-Term Outlook: 1-Hour Chart
Indicators from the 1-hour chart perspective also exhibit consistent sentiments. The market is positioned within bullish territory; however, owing to the recent consolidation and heightened volatility, these indicators reflect relatively modest bullish momentum. Nevertheless, even with this subtle bullish advantage, they have the potential to support and sustain an upward price trajectory.
Dash 2 Trade keeps you updated on the latest trends and developments in the crypto market so that you can be on top of your game.
🔍 Smart Money Insights 🚀

📉 September: The Bear's Grip Tightens!

Smart Money remains cautious, with stablecoin holdings around 15%, a move likely in anticipation of "red September." They're preparing to buy when they believe we've bottomed.

In uncertain times, Smart Money… pic.twitter.com/VuabULoMxr

— Dash 2 Trade (@dash2_trade) September 13, 2023
Do you want a coin with great potential for enormous returns? Dash 2 Trade (D2T) is that coin. Buy D2T now!