The Dow Jones 30, sometimes known as the US30 has closed at another all time high, it's 15th for the year. The major index is in one of the clearest trends of any market or Forex pair and has been for some time with price making higher highs and higher lows for some time, shown by the continuing record highs.
When some markets of Forex pairs get into strong trends they will often not make any retracements back into a value area and these types of strong impulsive trends can often be short lived, but with the trend on the DJ, price has been making a new higher high and then rotating back lower and into a value area before then continuing with the trend back higher.
As I discuss in the trading tutorial How to Trade Price Action Setups in Trending Markets  trades should not just be taken from anywhere in an obvious trending market. Trades within the trend need to be taken from value areas when price makes a retracement or pull-back to avoid entering when the big money are cashing out and leaving the market. A big mistake a lot of traders make when trading with the trend is looking to enter a trade, but entering at the extreme high or low of the trend. This is where traders often find themselves entering at the exact point price turns around and they will then wonder where they went wrong as they did the right thing in entering with the trend. The problem is that where they entered within the trend is not from a value area and that the big guys order flow is leaving the market just as the new trader is entering at the extreme high or low.
With the Down Jones chart, price is clearly in an up-trend and until price shows clear and obvious price action signs that the trend is over, the best course of action looks to be to continue looking for trades within the trend and not look to fight it. As I stated at the start of this article, this market has already formed 15 new all time highs this year so looking to continue to trade with this trend until it shows signs otherwise looks the best play at this stage.
Note: If you are looking for a broker that offers this market to trade along with a wide variety of other markets including all the Forex pairs needed and the major indices, then check out the Recommended Forex Broker & Charts Article as both brokers in that article for both traders inside and outside the US offer Brent Oil to trade plus a wide variety of other markets.
Dow Jones 30 Daily Chart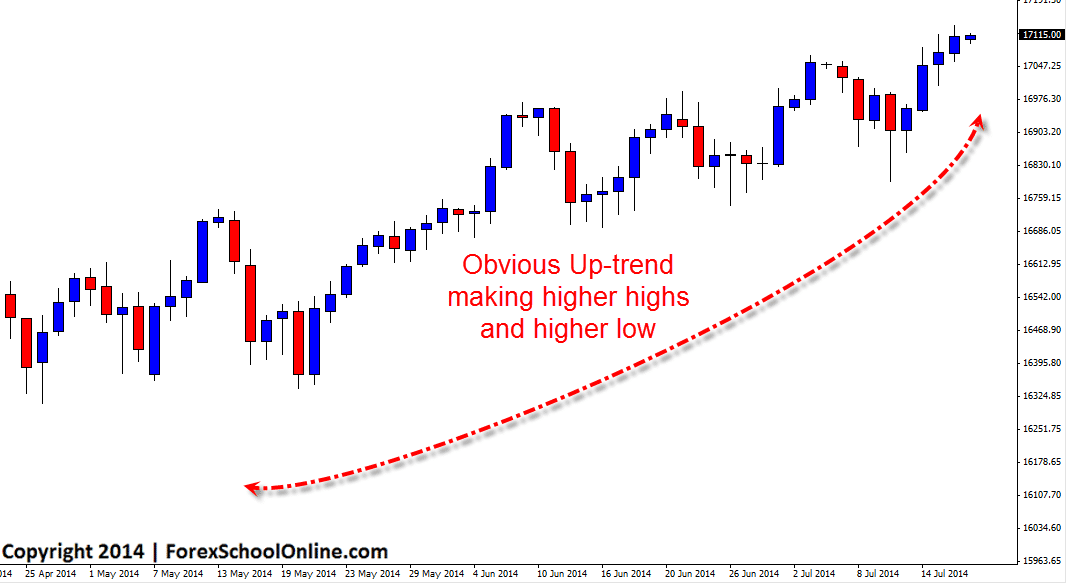 Related Forex Trading Articles & Videos