The Forex market can be a very enticing market for speculative traders to start trading.
Forex offers a wide range of benefits and comes with a lot of opportunities.
Some of the reasons that Forex is so popular for retail traders is because it is open 24/7, you can make profits from price both rising and falling and you can use leverage to increase your winning trades.
In this post we are going to look at exactly what the Forex market is and how as a beginner you can get started and learn how to trade.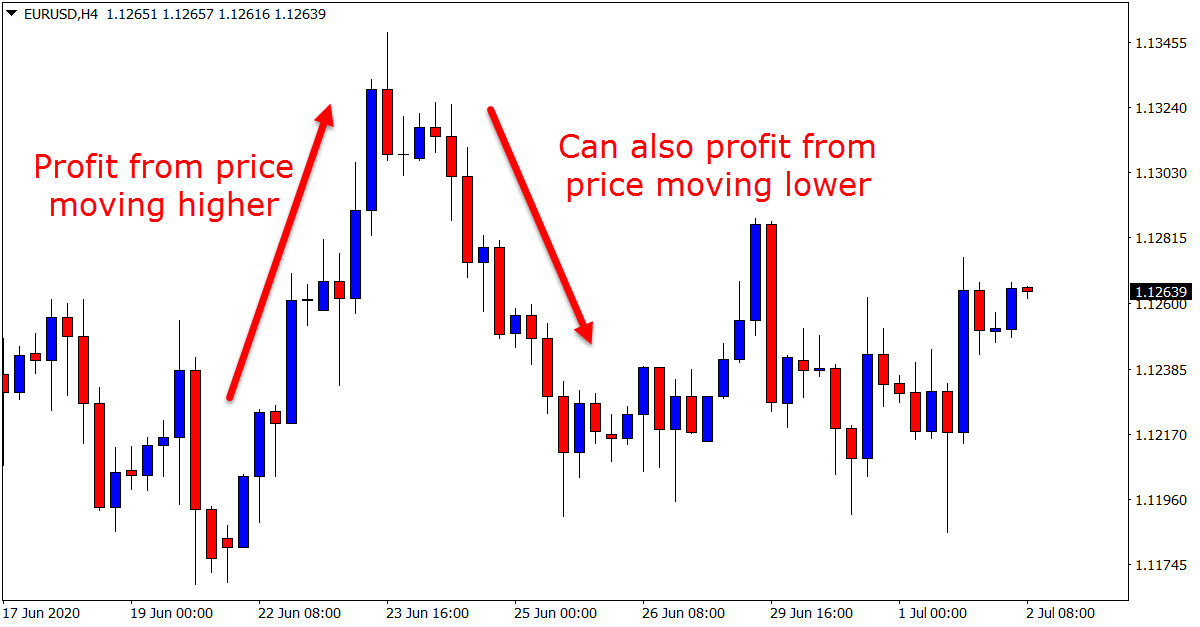 What is Forex Trading and How Does it Work?
The Forex or 'Foreign Exchange' market is the biggest market in the world with daily turnover of up to five trillion dollars.
Trading takes place in currency pairs. Unlike in the stock market where you are buying one stock such as Google or Apple, to exchange currencies you need to make trades in a pair.
An example of this is the EUR/USD Forex pair or the GBP/JPY pair. When trading these pairs you are exchanging the Euro for the US dollar and the Great British Pound for the Japanese Yen.
The Forex market is traded by a wide range of different market participants. Some of these include major world banks, trading companies, trading speculators such as retail traders and world governments.
Whilst retail traders sitting in their homes are speculating on small price movements higher and lower looking to make profits from the price changes, other organisations are exchanging currencies through necessity. The reason for this is because when buying or trading with other countries different currencies need to be exchanged.
How to Start Forex Trading 
There is a lot to learn when it comes to trading the Forex market. You have to learn everything from how to place orders, different trading strategies and risk management techniques.
There are some shortcuts and below is a list of the steps you can follow to fast track your learning;
Start with a free beginners trading course
Start practicing on free demo / virtual charts
Find and use a winning trading strategy
Learn risk and money management strategies
Learn from others with free trading ideas
Start With a Free Beginners Trading Course
As a beginner in the Forex market you have a lot to learn to begin safely making trades.
The first step is learning all of the basics and what is required to enter and exit the markets.
Here at Forex School Online we have a very in-depth free beginners trading course that has been expanded over time to include 35 lessons.

The free beginners trading course includes quizzes to make sure you are understanding what you are learning and comes with extra bonus PDF downloads and indicators.
In the free beginners trading course you will learn;
How the Forex Market Operates and How to Make Trades

How to Calculate Your Trading Costs, Including Daily Rollover and Different Commissions

How to Use Different Types of Market Analysis 

How to Calculate Your Risk Reward and Trade Sizing

How to Create Your Own Trading Rule Set and Edge Over the Market
You can get access to the Forex School Online free beginners course here.
Start With Demo Charts and a Good Broker
After you start learning the basics it is important you start making practice trades.
It is also important you don't just jump straight into a live account and begin risking real money.
The best place to start as a beginner is with a free demo or virtual trading account.
A demo or virtual trading account lets you make trades in the same market conditions as a live trading account with the only difference being you are risking virtual money.
This lets you practice your trade entries and exits, workout the trading platform and make sure you are not making any errors that could cost you real money.
A demo platform also lets you work on your strategies and money management techniques so that when you do begin risking real money you have built your confidence.
Get a Winning Trading Strategy
An absolute must to becoming a successful trader is finding a successful trading strategy that you can use time and time again.
Your chosen strategy does not have to be complicated and often the best strategies are the simplest. However; it does have to have clear rules and be repeatable.
One of the best and also simplest trading strategies you can use is price action trading.
Price action trading strategies have been used for over 200 years. The major reason for this is because of how simple they are to use and how they can be used in many different ways.
When price action trading you are reading the raw price action on your chart to form your analysis. This price action shows you clues that you can then use to make high probability trades.
Price action is forming every second the market is open as price moves higher or lower and it is printed right on the chart in front of you to see.
Here at Forex School Online we have an in-depth free price action trading guide that will take you through exactly what price action is and how you can start using it in your own trading. This free PDF Ebook will show you everything from how to get set up on your charts, through to how to use price action to find trades.
You can get this free price action PDF below;
Learn Risk and Money Management Strategies
Whilst having a reliable trading strategy that will make winning trades is important, if you don't use correct risk management you are always at risk of blowing your account.
Risk and money management helps you protect your losses whilst also ensuring you can take advantage of your winning trades and make the most profit.
Three crucial risk and money management strategies you need to learn and use in your trading are;
#1: Position Size Your Trades
#2: Trade Management
#3: Smart Stop Loss Placement
If you are not working out your position size before each trade you are running the risk of losing a huge chunk or your account on one trade. You can read about how to correctly position size your trades here.
To make sure you can cut your losses short and let your profits run you need to have solid trade management and stop loss rules.
If you are letting your losers run, then you will have a very hard time making profits.
You can learn how to manage your trades for success here.
Use a Trading Journal
A major difference between the trader who is making consistent profits and the trader who consistently loses is how they treat their trading.
The consistently profitable trader treats their trading as a business.
These traders use all the tools they can to make sure they are cutting out their errors and making constant improvements.
One of the best tools you can use to make sure you find errors in your trading and continue to improve is a trading journal.
Here at Forex School Online we have a free trading journal that will help you both track all of your trading and also find where you are making errors.
This free journal comes as both a PDF and Excel download.
You can get this free journal to help you start managing and tracking your trades by hitting the button below.
Get Free Trading Ideas
One of the easiest ways to very quickly improve your trading is to get ideas from other traders who have been trading a long time.
This can help you improve your own analysis and also help with where to mark your key support and resistance levels or look for potential trades.
At Forex School Online we post weekly trade ideas that help with this.

These weekly trade ideas include the major support and resistance levels for the upcoming week, potential trading areas and the strong trends or ranging markets in play.
These ideas can help you in your own trading and you can find all the weekly Forex trade ideas here.
Lastly
There is a lot to learn when first starting in the Forex market. It can at first seem a little overwhelming.
The best place to start is with a free beginner's trading course that will take you through step-by-step exactly what you need to know.
You will get a handle on the basics whilst at the same time be able to learn a trading strategy that suits your style and you can begin practicing.