Weekly Price Action Trade Ideas – 6th to 10th July 2020
Markets Discussed in This Week's Trade Ideas: GBPUSD, EURGBP, AUDCAD and SILVER.
Note: We Use Correct 'New York Close 5 Day Charts' – You can read about why we use these and how to download the correct free charts at Correct Free New York Close Demo Charts
GBPUSD Daily Chart
Support Holds With 2 Bar Reversal
In our recent trade ideas here we were watching this market and in particular the range support price was looking to move into.
During the week price completed this move with a strong rejection off the support level with a bullish 2 bar reversal.
Price has now rotated back higher into the middle of the range and minor resistance level.
Whilst the range support and resistance levels continue to hold, this market could be played both ways watching for price action clues at the key levels.
Daily Chart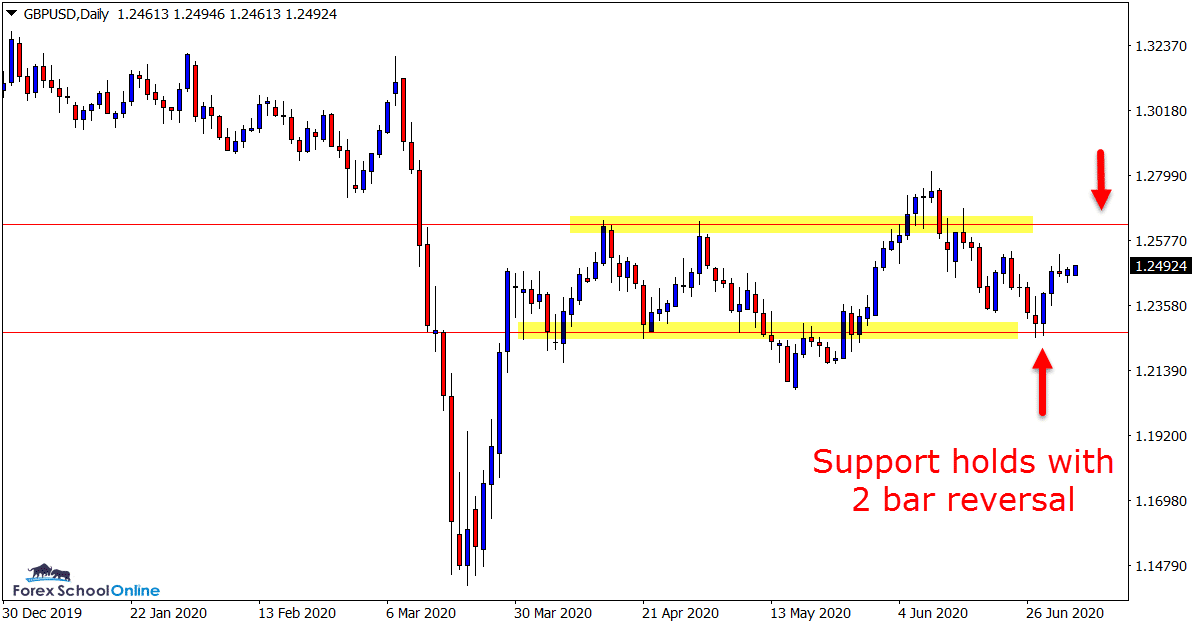 EURGBP Daily Chart
Daily Support Looks Crucial
After making a quick breakout higher and through the daily resistance level, this pair snapped back sharply to close back below and create a false break.
Whilst the daily support level is holding at this stage, for any solid moves higher the same false break resistance level would need to be taken out.
Caution with this pair could be the best possible action at the moment until the price action becomes a little clearer.
Daily Chart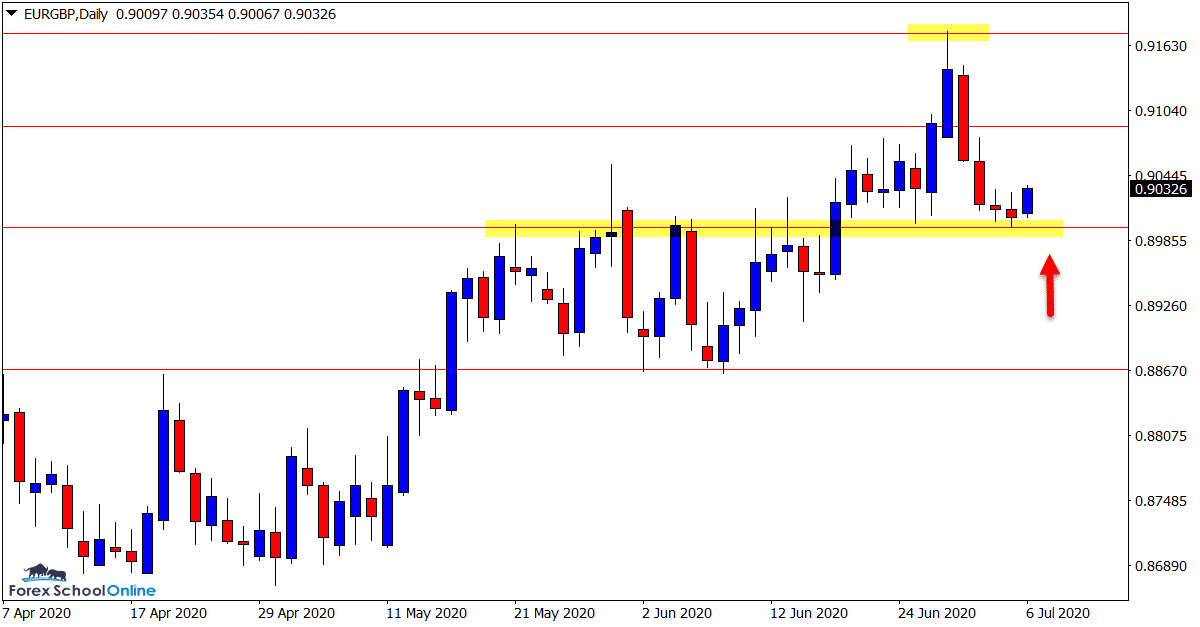 AUDCAD Daily Chart
Waiting for Breakout
In our past couple of trade ideas we have been watching this market for a potential breakout.
This so far has not eventuated.
Whilst some could look to play the breakout both ways, I would much prefer to look for long breakout trades with the previous trend and momentum higher.
These types of trades could include looking for straight breakout trades or smaller time frame breakout and quick pullback trades.
Daily Chart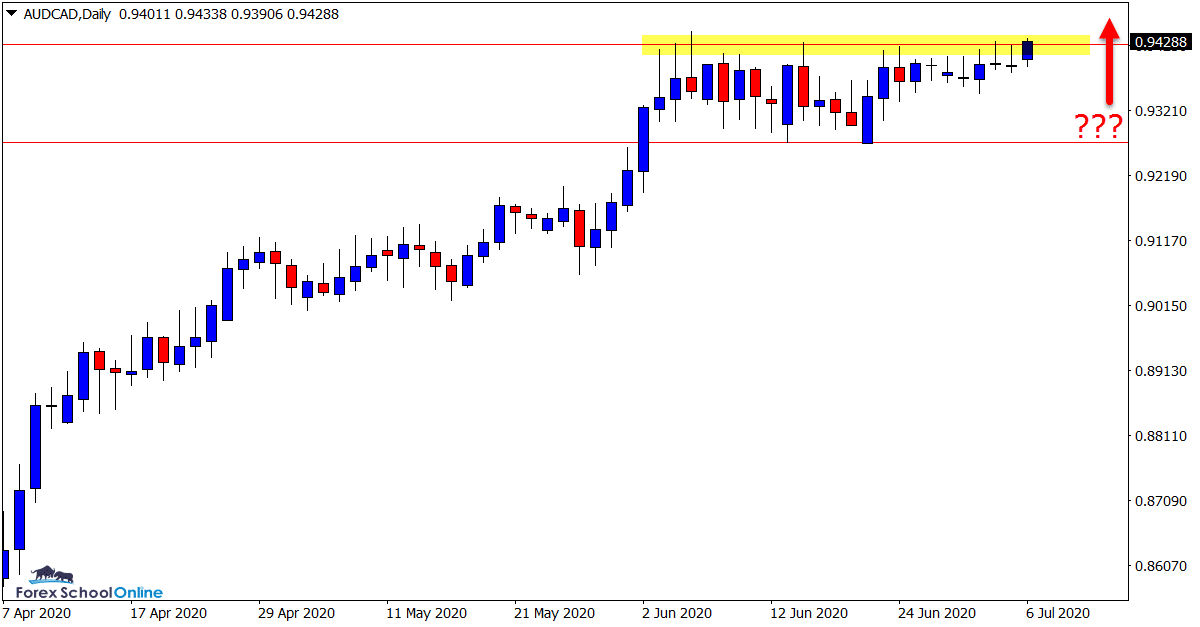 GOLD Daily Chart
Testing Multi-Year Resistance
The multi-year resistance level dating back to 2012 that we discussed in last week's trade ideas for this market came into play last week.
As the chart shows below; price attempted to break higher, but at this stage it is hovering just below this level.
This level looks fairly important.
If we can get a solid break above it, then it could lead the way to a sustained move higher where there is more free space to break into.
Daily Chart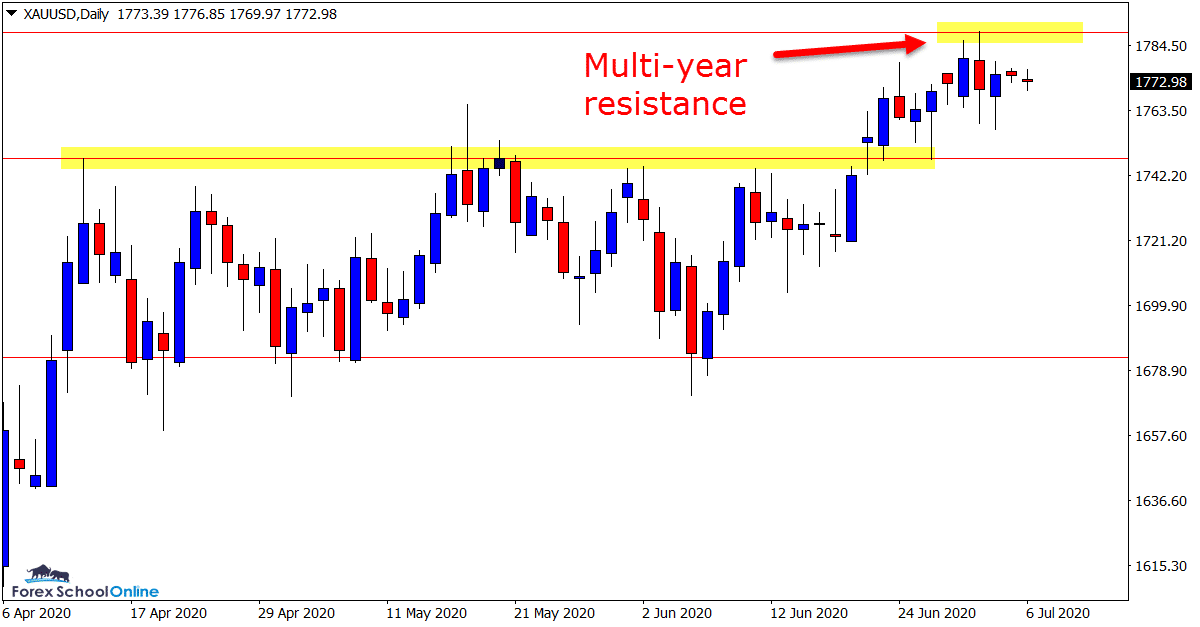 Trade Ideas Note: All views, discussions and posts in the 'charts in focus trade ideas' are the view of Forex School Online and are not recommendations or trading advice. All posts are general in nature and are not advice to buy or sell.
Note: We Use Correct 'New York Close 5 Day Charts' – You can read about why we use these and how to download the correct free charts at Correct Free New York Close Demo Charts
Please leave questions or comments in the comments section below;