Kaspa (KASUSD) Price Forecast: November 20
The KASUSD pair clearly indicates a buy signal that the bulls are still very strong today. If the forces from buyers in the market are strengthened and sustain the coin prices above the $0.1483 supply value, the buying pressure may likely plunge the price to the $0.1600 supply level trend line and beyond.

Key Levels:
Resistance Levels: $0.1100, $0.1200, $0.1300
Support Levels: $0.0900, $0.0800, $0.0700

KAS (USD) Long-term Trend: Bullish (4H Chart)
At the time of writing, KASUSD is trading in an uptrend and also indicates a buy signal on the higher time frame. The prices are above the moving average lines and have confirmed a bullish momentum breaking the previous high at $0.1359 value.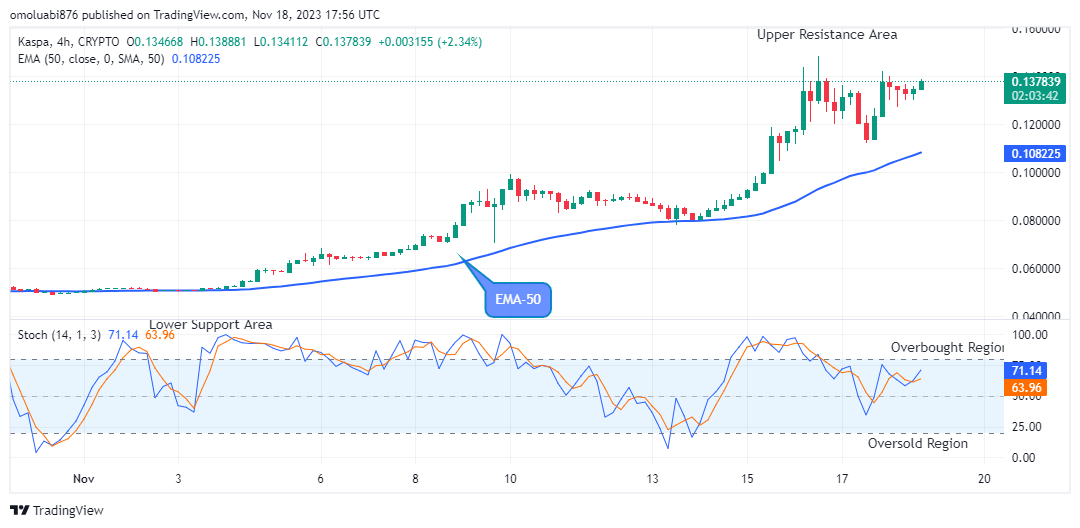 The sustained pressure from the bulls at the $0.1359 supply level in the past few hours has contributed to its bullishness in its recent high.

Today, the bulls made an upward move to the $0.1388 high value above the EMAs as the 4-hour chart opens. The altcoin looks promising as the bulls remain dominant in the market at the moment. If the bulls should increase their price action, and bullish momentum is sustained far above the resistance trend lines, further bearish sentiment will be hibernated.

Additionally, the Kaspa market indicates a buy signal by pointing up on the daily stochastic. Hence, if the coin buyers manage to break above the $0.1483 previous supply trend line, the coin traders may witness a new recovery rally and this may reach a high at the $0.1600 mark soon in its higher time frame. This signals a BUY trade again in its higher time frame.

KAS (USD) Short-term Trend: Bullish (1H Chart)
Despite the interference of short-term traders in the price flow, the Kaspa market also indicates a buy signal on the lower time frame.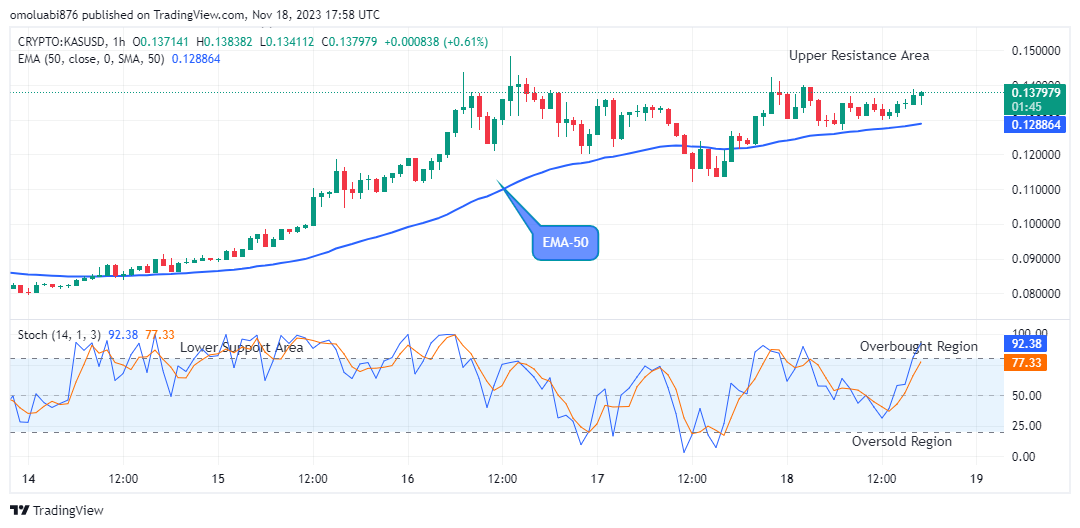 The coin price can now be seen progressing upward above the moving average line. This shows that buyers are currently gaining more strength in the market.

The high order flow from the bulls to a $0.1310 high level in the previous session also added to this bullishness. However, the bulls are now set to increase the trend.

Today, the buy traders made an impulse move to a $1383 supply value above the moving averages. This indicates an established bull trend. Thus, it is very likely that the bulls will continue rising as we are seeing a bullish correction in place at the present.

In a like manner, the KASUSD price indicates a buy signal on the daily stochastic by pointing upwards. Therefore, it is very likely for the coin price to rise further and this might get to the $0.1600 resistance value soon in its short-term scenario.

Buy Kaspa on eToro