Sponge will quickly reach its previous peak soon
SPONGEUSDT Price Analysis – 18 September
The Sponge's next upward targets are the $0.000196 and $0.000330 levels, which are anticipated to show up following the market downturn, assuming it is successful in breaking above the $0.000136 level of resistance
Key Levels:
Supply level: $0.000136, $0.000196, $0.000330
Demand level: $0.000087, $0.000004, $0.000006
SPONGEUSDT Long-term Trend: Bullish
The SPONGEUSDT's long-term outlook is favorable. When Sponge's price declined to $0.000087 a few weeks ago, it found support. However, throughout the last month, sellers kept pushing the SPONGEUSDT market lower. The coin's value recently exceeded $0.000136. Daily candles that were more bullish than bearish were starting to form, and the level of $0.000136 was ready to be crossed. On September 6, the price increased for a brief while, peaking at $0.000196, before declining. The price will quickly reach its previous peak soon.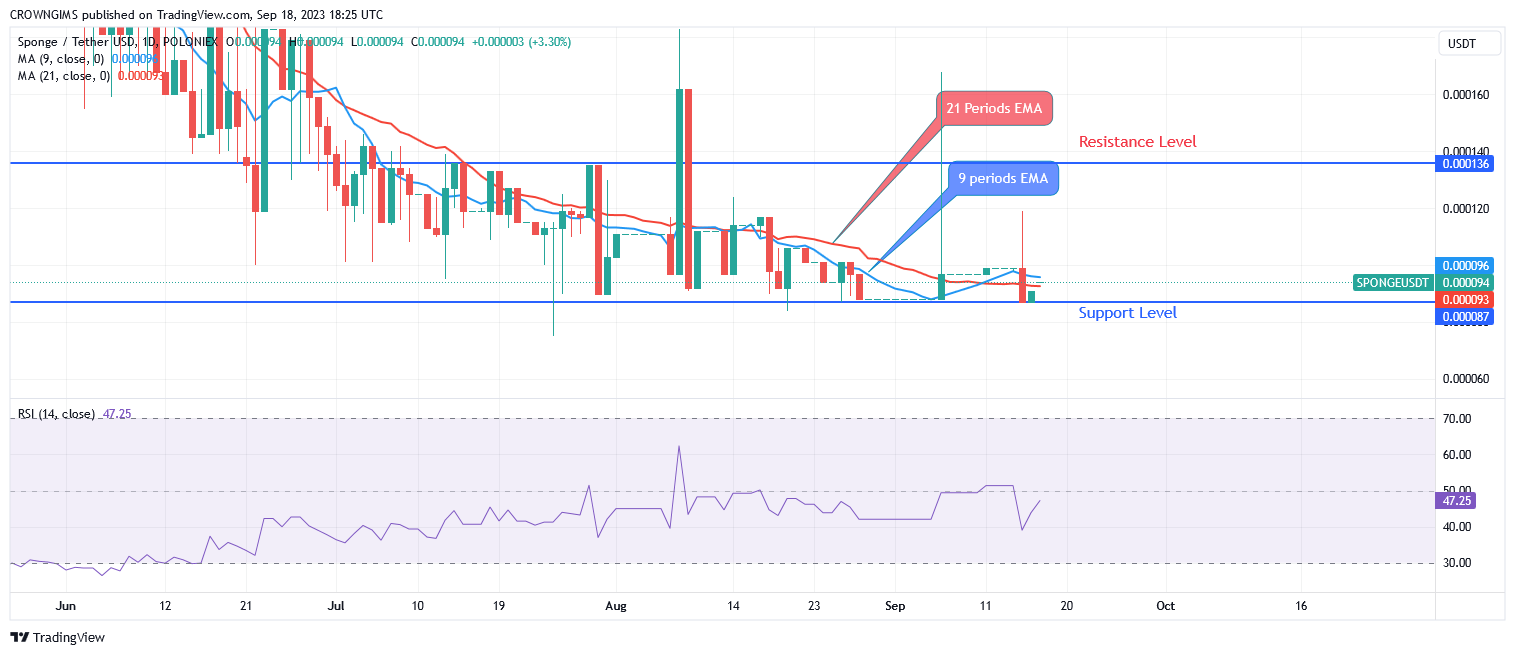 The rising crossover of the sponge and the two EMAs indicates that the bullish trend is intensifying. The 21-period EMA and the 9-period EMA is also approaching. The Sponge's next upward targets are the $0.000196 and $0.000330 levels, which are anticipated to show up following the market downturn, assuming it is successful in breaking above the $0.000136 level of resistance. The price may drop below the support level of $0.000067 if the bears are successful in holding the resistance level of $0.000136. At level 47, the upward-pointing relative strength index period 14 signal lines are giving a buy signal.
SPONGEUSDT Medium-term Trend: Bullish
In the medium term, SPONGEUSDT has a positive outlook. The market is gaining sharply as bulls are starting to reappear. In the four weeks leading up to August 8th, when the resistance level of $0.000136 was broken, buyers outweighed sellers. As long as the bulls' momentum continues, the price rebounds to the previous high level.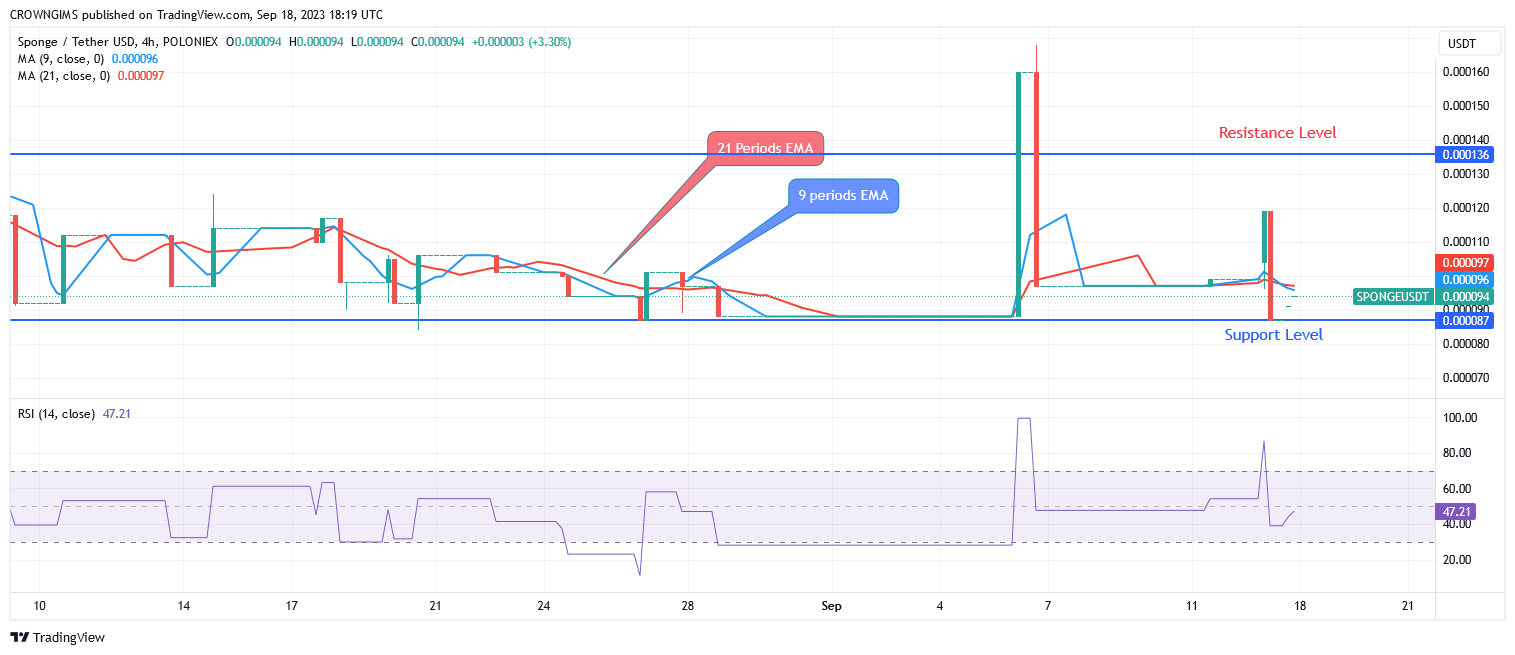 Price is above the exponential moving averages of 9 and 21 periods, respectively. The signal line is pointing up, the Relative Strength Index period 14 is at 47 levels, and purchasing is suggested.
Make sure to take part and enjoy the benefits while you can!
Don't miss out on the $SPONGE #Airdrop Season 1, ending in November!📆

Be sure to participate and savor the rewards while they last!🎁💰

Stay tuned for more upcoming announcements!📣

🧽Stay relaxed and soak up the damp with #SPONGE!💦

Join us here 🌐 https://t.co/lzRhjW4oLL pic.twitter.com/ESEUAIh31R

— $SPONGE (@spongeoneth) September 18, 2023
Invest in the hottest and best meme coin? Buy Sponge ($SPONGE) today!