Weekly Price Action Trade Ideas – 24th to 28th June
Markets Discussed in This Week's Trade Ideas: USDCHF, AUDCAD, USDSGD and NZDJPY.
USDCHF Daily Chart
Engulfing Bar Sends Price Lower
Price has smashed lower in the last few sessions after forming a Bearish Engulfing Bar – BEEB on the daily chart.
As the chart shows below; price retraced into the overhead old support and new resistance, price flip level where it formed the engulfing bar.
Price is now testing a daily support level after a large and aggressive sell off.
With all the momentum lower we could look for this pattern to repeat and for price to retrace.
If price can rotate back higher into a value area we could look for A+ trade setups to get short with the momentum lower.
Daily Chart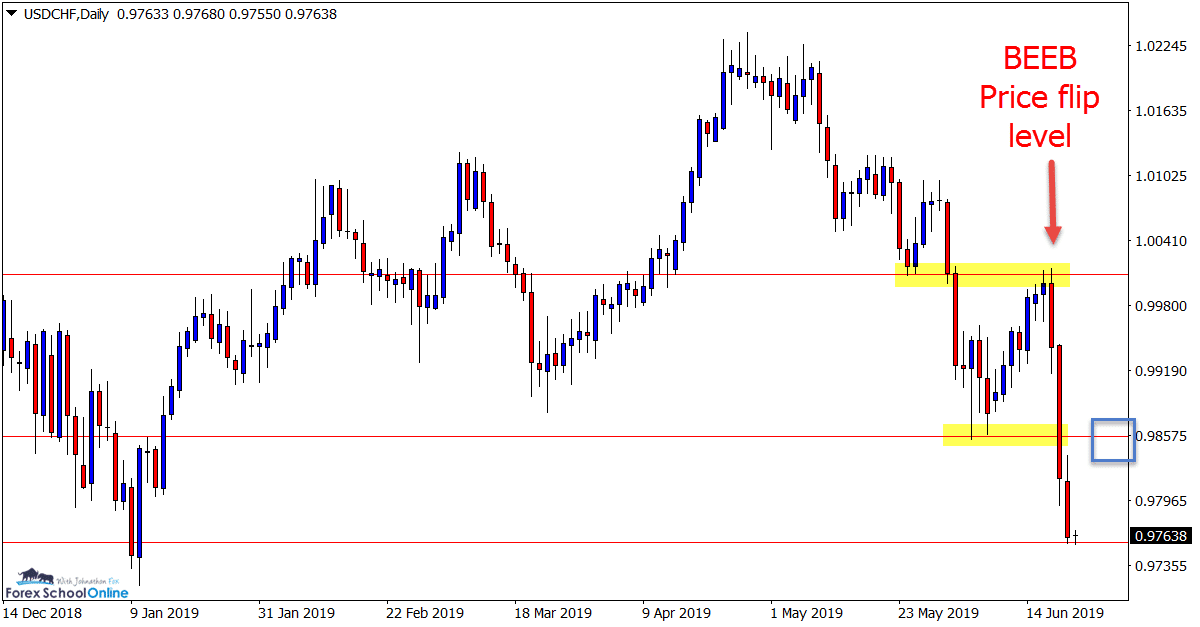 NZDJPY Daily and 1 Hour Charts
Looking to Test Resistance Again
We have been charting this market quite a bit in recent times as there have been some nice clean moves taking place.
In last weeks trade ideas we were looking to see if price would give another potential short trade on retracement after price had formed the solid Bearish Engulfing Bar on the daily chart.
As the 1 hour chart shows below; price moved into this resistance zone and fired off a bearish 2 bar reversal up at the swing high.
After selling off lower, price is now looking to make a potential second test of this same level.
Whilst the first retrace looked a high probability chance to enter another short trade using the 1 hour chart, I would be more cautious the second time around as the intraday charts looks a little more clogged and sideways than what they were.
Daily Chart

1 Hour Chart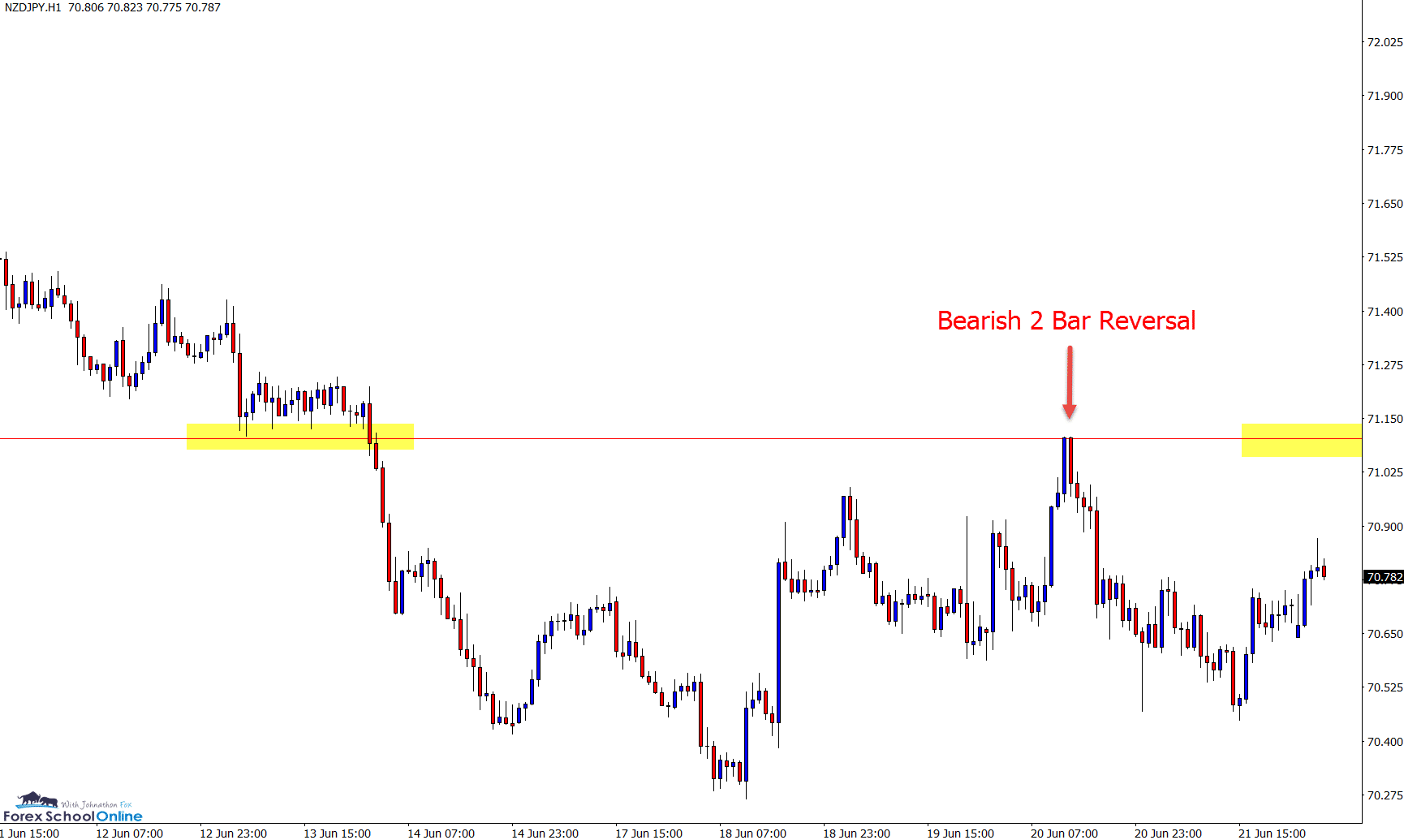 USDSGD Daily Chart
Price Crashes Through Major Support Levels
In last week's trade ideas we were watching this market to see if price would hold as a new price flip support level.
After price originally moved out and through the daily resistance level, it quickly moved higher and into the next overhead level.
Price quickly reversed, forming a large Bearish Engulfing Bar and slammed back through the price flip and the next major daily support level.
As the chart shows below; the support that price broke through is a very important one for this market and if price can rotate back higher to make another test, we could watch for potential bearish price action triggers.
Daily Chart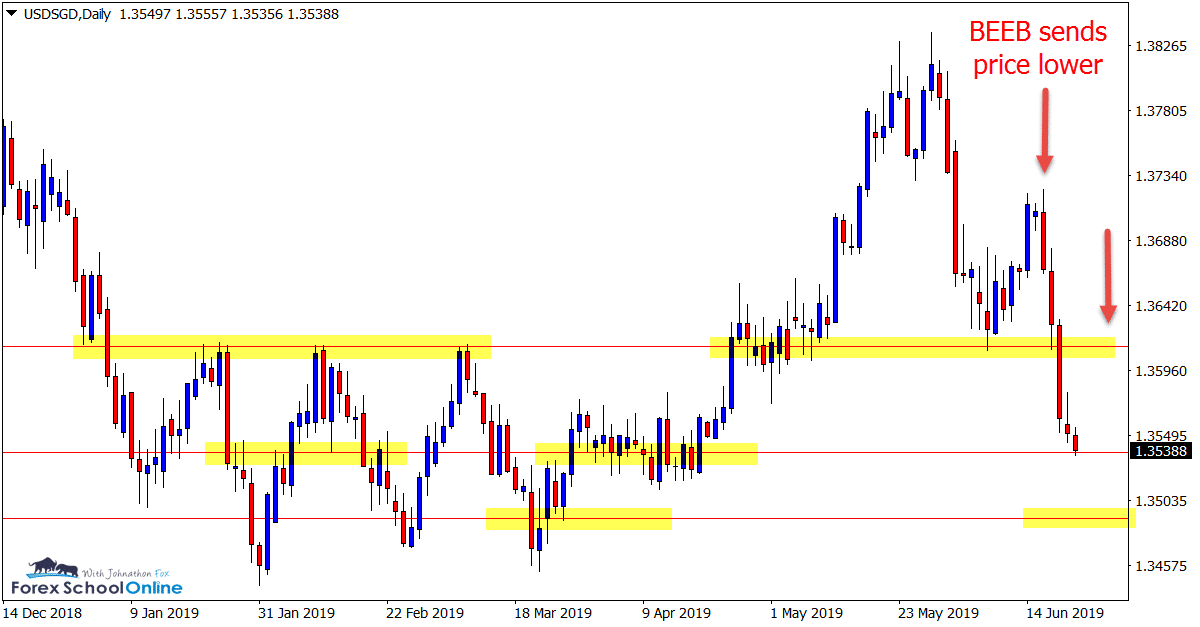 AUDCAD Daily and 4 Hour Charts
Price Breaks Lower With Inside Bars
Price on the daily chart of this market has now broken lower and through a key support level.
After forming an indecision inside bar candle, price broke and made a swift move lower.
Price has now formed a Bullish Engulfing Bar – BUEB on the daily chart that could send price higher and back into this same old support and new resistance.
This level could be a solid level to watch for potential bearish A+ trigger signals over the coming sessions.
Daily Chart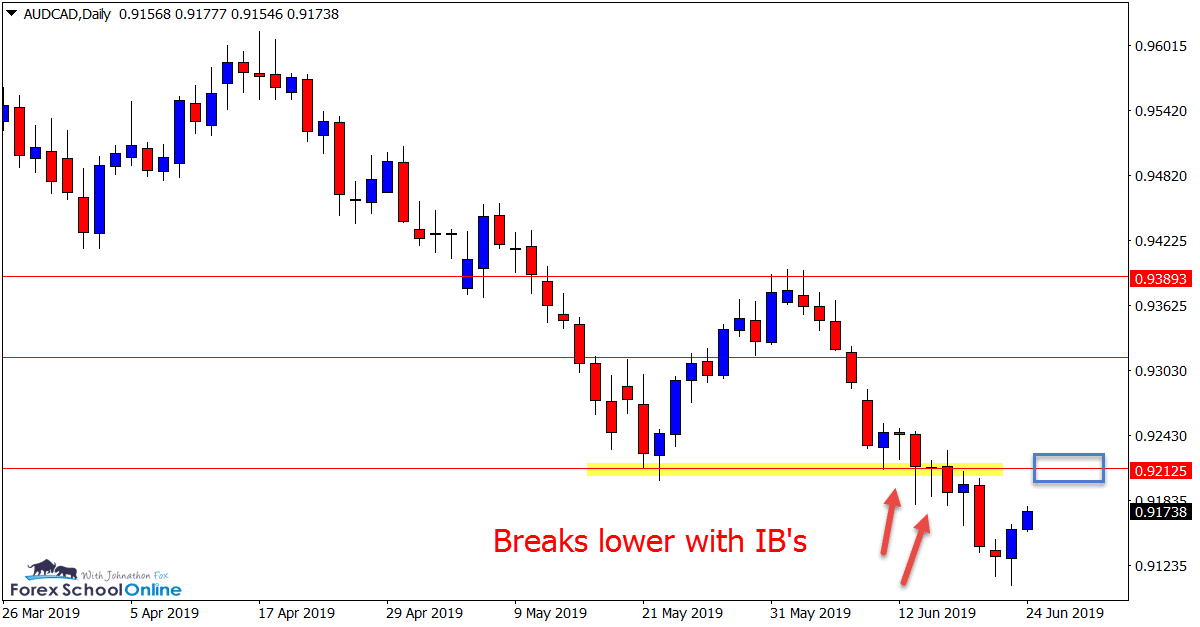 4 Hour Chart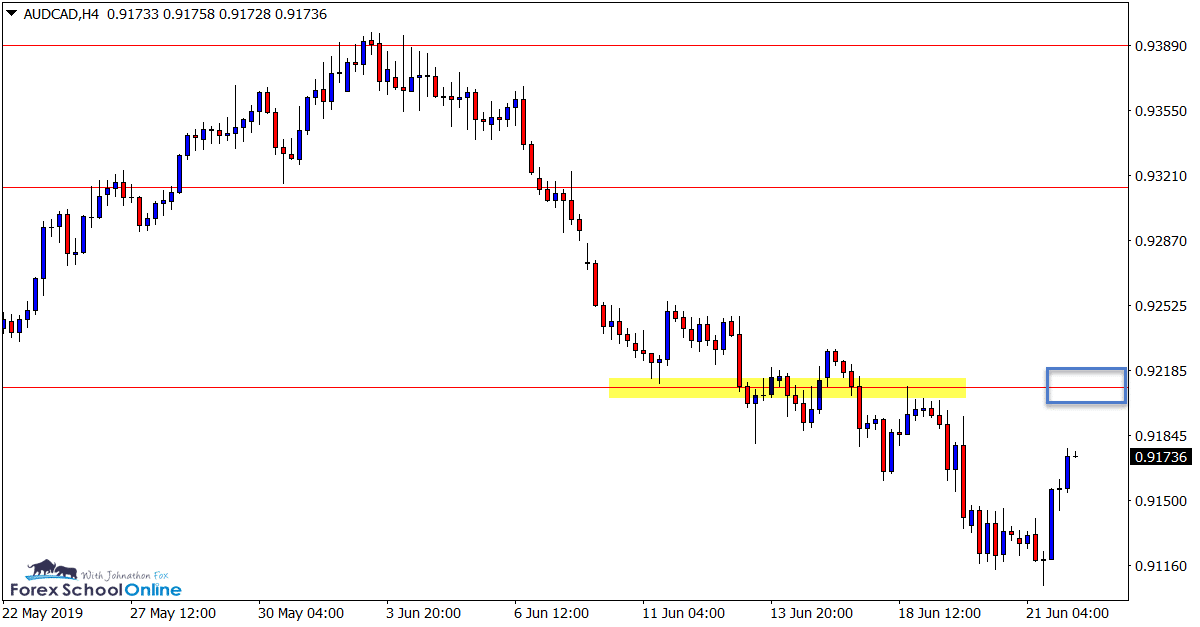 Note: We Use Correct 'New York Close 5 Day Charts' – You can read about why we use these and how to download the correct free charts at Correct Free New York Close Demo Charts
Trade Ideas Note: All views, discussions and posts in the 'charts in focus' are the view of Forex School Online and are not recommendations or trading advice. All posts are general in nature and are not advice to buy or sell.
Please leave questions or comments in the comments section below;