Weekly Price Action Trade Ideas – 8th to 12th April 2019
Markets Discussed in This Week's Trade Ideas: AUDPY, AUDNZD, USDSGD and NZDJPY.
Note: We Use Correct 'New York Close 5 Day Charts' – You can read about why we use these and how to download the correct free charts at Correct Free New York Close Demo Charts
AUDJPY Daily Chart
Range Breakouts Could Open
A few crosses and markets we don't often look at in this week's trade ideas summary.
This week we are seeing a lot of markets either trading in sideways consolidation or tight ranging box patterns.
The AUDJPY is a good example of this with price action on the daily chart recently rejecting the resistance of the range high and now moving back into the middle of the range.
A market like this with a range high and low clearly set out can be played either way, long or short with the right setups. We do however, want to be mindful we don't get caught out making trades in the middle of the range and no man's land where price is prone to whipping back and fourth.
Daily Chart
AUDNZD Daily Chart
Inside Bar Breakout
In last weeks price action trade ideas summary on the 1st of April, we discussed this pair and the inside bars that had formed on the daily chart.
Price was attempting to gain momentum and reverse back higher, but had stalled, forming the daily chart inside bars. During the week the inside bars broke out strongly, giving aggressive traders a trade entry with a strong breakout.
Price action also formed breakout and quick re-test trades on the 4 hour and 1 hour intraday charts confirming price was looking to continue with the breakout long, with the 1 hour chart forming a strong Bullish Engulfing Bar.
Daily Chart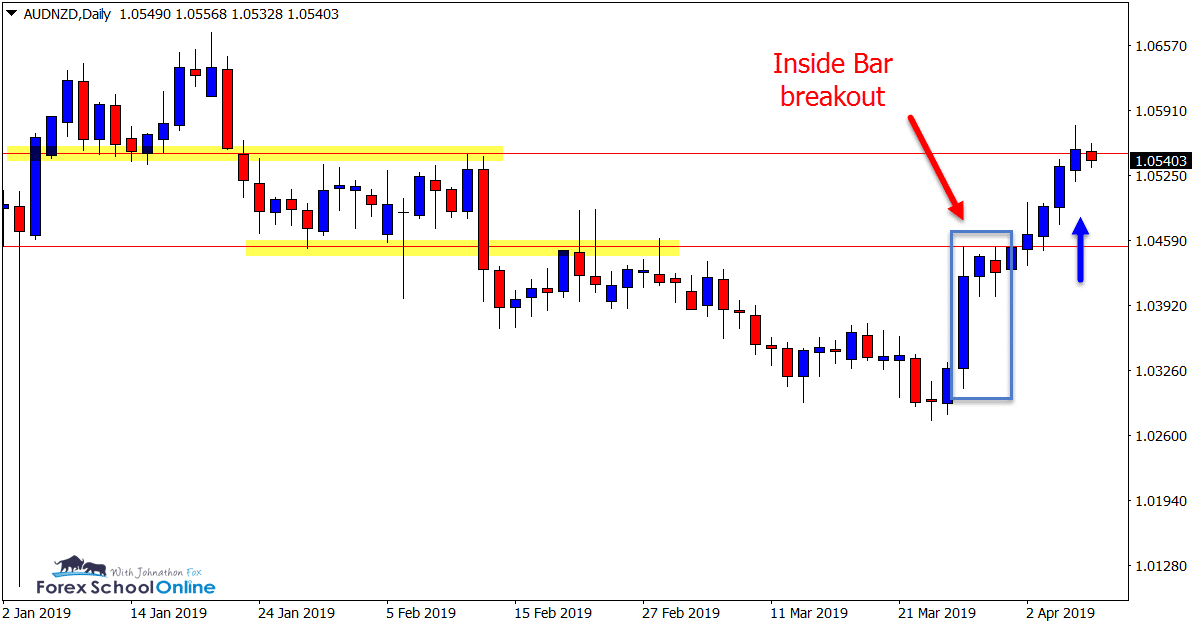 USDSGD Daily Chart
Price Caught in Middle of Box
This is a market that looks quite similar to a lot of others on the daily charts this week.
As you can see from the chart below; price is trading in the middle of a fairly well set range that has been created over the last four months.
This is another market that could be traded either way should the opportunity present itself.
Traders could look for false break type reversal setups from the range high or low, or if price breaks out, then look to take advantage with quick break and re-test trades on smaller time frames.
Daily Chart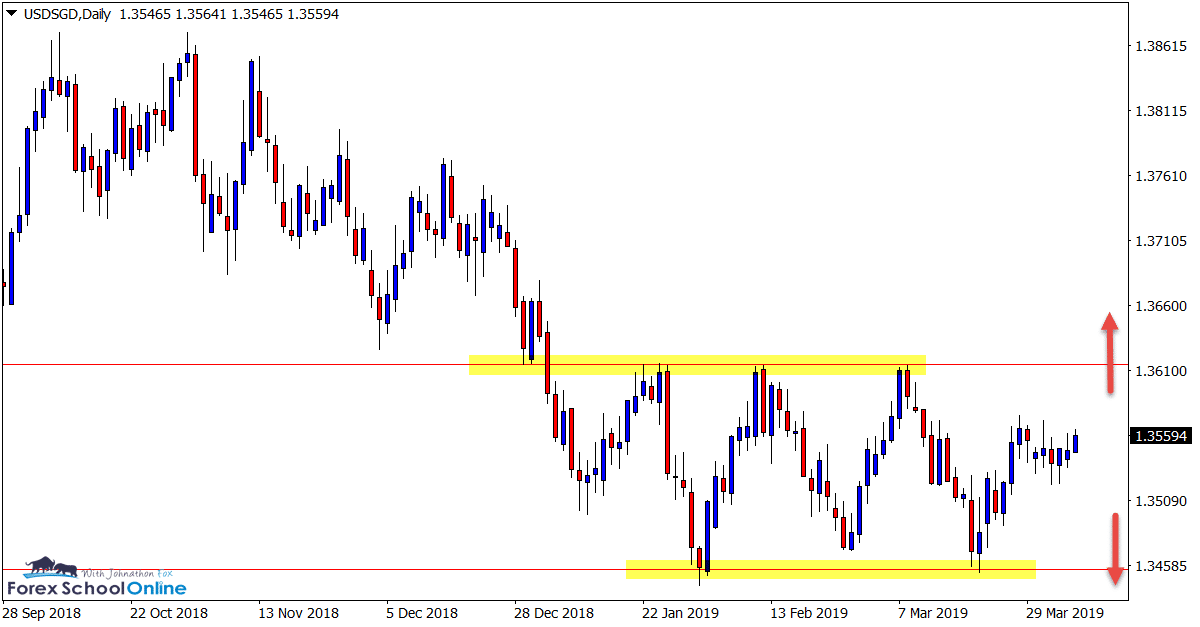 NZDJPY Daily Chart
Potential Break of Support
After forming the false break bearish engulfing bar and collapsing lower on the daily chart, this market has since stalled and found support.
As you can see on the chart attached below; there is no clear or obvious trend direction either higher or lower at present.
Price could make a serious attempt at breaking the daily support in the coming sessions. If this occurs and the level gives way, bearish traders could quickly flip to smaller time frames to look to see if price re-tests and acts as a price flip (old resistance and new support) for potential short trades.
Daily Chart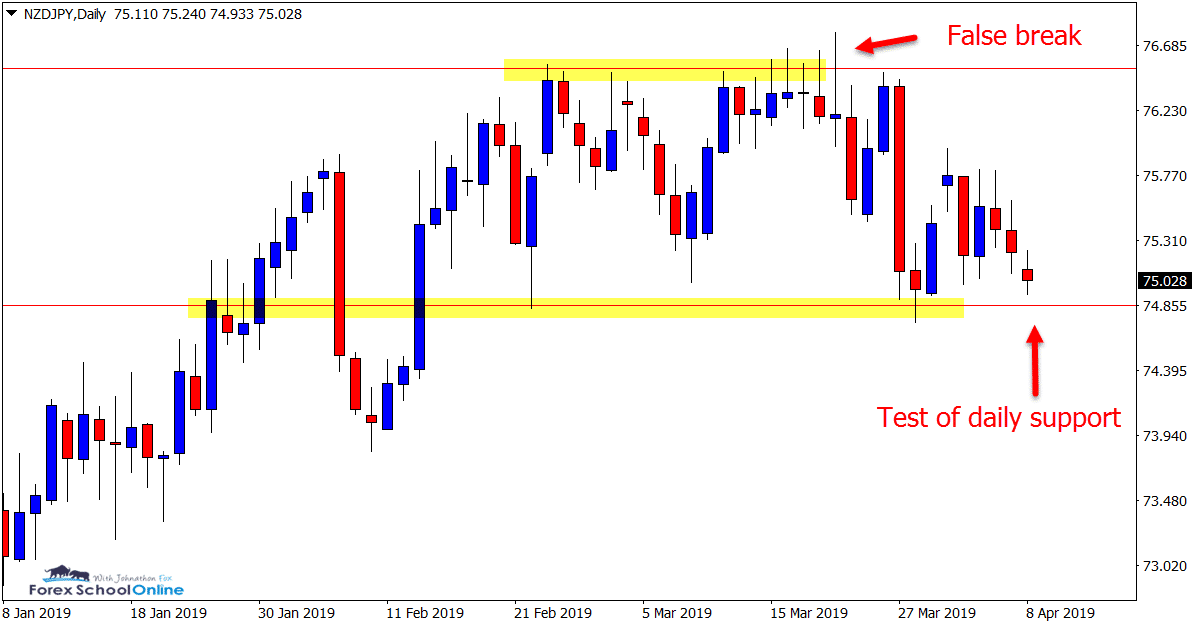 Charts in Focus Note: All views, discussions and posts in the 'charts in focus' are the view of Forex School Online and are not recommendations or trading advice. All posts are general in nature and are not advice to buy or sell.
Please leave questions or comments in the comments section below;