Lucky Block Price Prediction – November 20
After the completion of the downward moves by the sell traders, the LBLOCKUSD is now set to grow again and increase the crypto potential. The coin market has just resumed its recovery rally and from the look of it, it will keep growing. The bull race may likely continue all the way into the key psychological level of $0.001000 supply value and beyond before we see any signs of buyers slowing down if the buy traders should put more aggression into the market.

Levels:
Resistance levels: $0.0001000, $0.0001100, $0.0001200
Support levels: $0.0000500, $0.0000400, $0.0000300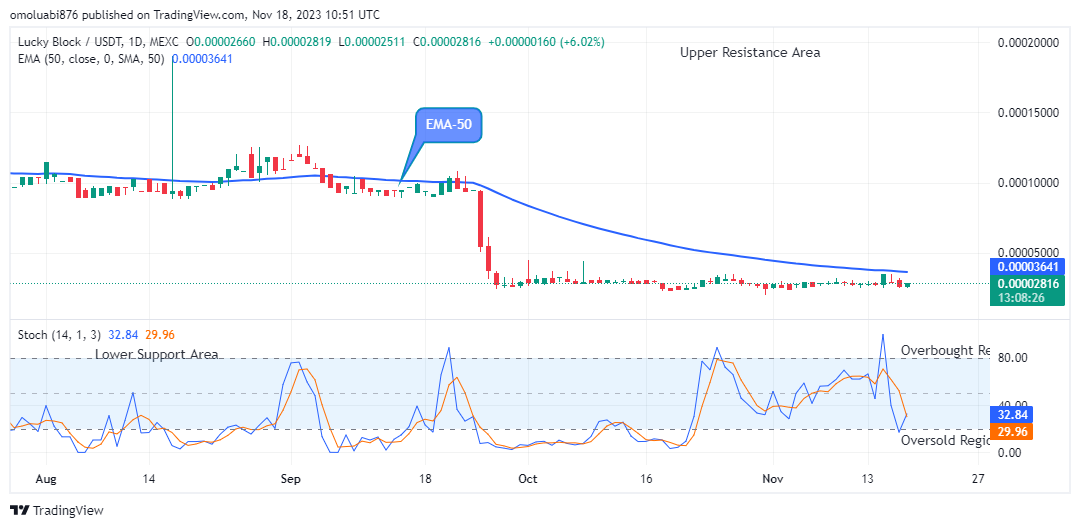 LBLOCKUSD Long-term Trend: Bearish (Daily Chart)
It is set time to grow again for the LBLOCKUSD after completing the low-dips. The price is now facing resistance in its higher time frame.

The bears 'activities on the coin at a $0.0000251 supply level during yesterday's session have made the price drop below the supply level in its recent low.

An aggressive move by the bulls to the $0.0000281 resistance level below the EMA-50 as the daily chart commences today is an indication that buyers are actively buying and also a set time to grow again by the bulls.

Hence, a significant push above the previous high point of $0.0001900 by the long traders, followed by a daily candle closing, may indicate a change in the dynamics of the market.

A breakthrough of this kind would give buyers a chance to take control again and could push Lucky Block's price closer to the overhead territory.

Notably, the Lucky Block pair is set to grow again as indicated by the daily signal pointing upwards. In light of this, the coin price might possibly grow higher to reach the $0.001000 supply value in the coming days in its long-term outlook.

LBLOCKUSD Medium-term Trend: Bearish (4H Chart)
The market price of LBLOCKUSD is currently trading in the bearish market zone. Meanwhile, the coin is set to grow again as we can see a new correction at the support level.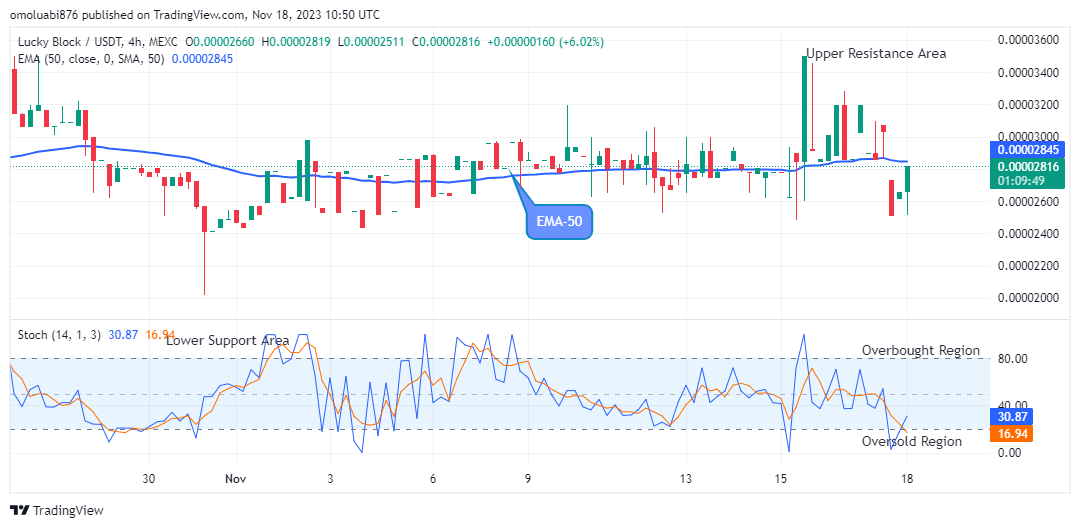 The price drop by the bears to a $0.0000251 low value in the previous action has made the coin price remain below the supply level in its recent high.

The coin buyers made a corrective move to a $0.0000281 high level below the EMA-50 shortly after the 4-hour chart opened today.

This bullish breakout will offer the first signal for potential recovery and provide a higher footing to push the bull rally forward.
Should the bulls increase their pressure, the resistance level of $0.0000349 may not hold and it may extend to a $0.0001900 high level soon.

Additionally, the LBLOCKUSD price is set to grow again as indicated by the price indicator pointing upwards, this means that a further rise in the market value of Lucky Block is certain and in this, the bullish correction pattern might extend the coin price to the $0.001000 upper resistance value in the days to come in the medium-term outlook.

You can purchase Lucky Block here. Buy LBLOCK