Lucky Block Price Prediction – November 21
The Lucky Block selling pressure is ending soon and the price could turn up from the current support at $0.0000273 low value to resume its uphill trend. If the forces from buyers in the market should increase and the current support level at $0.0000273 holds, the coin price may likely retest the $0.0001602 previous swing high and this may extend to the $0.001000 upper high mark and beyond.

Key Levels:
Resistance levels: $0.0000900, $0.0001000, $0.0001100
Support levels: $0.0000500, $0.0000400, $0.0000300

LBLOCKUSD Long-term Trend: Bearish (Daily Chart)
The long-term chart of the LBLOCKUSD pair shows a bearish trend due to the bulls' low volume. The price currently trades below the moving average lines confirming a downtrend. This will soon turn up as the crypto price now approaches the oversold region.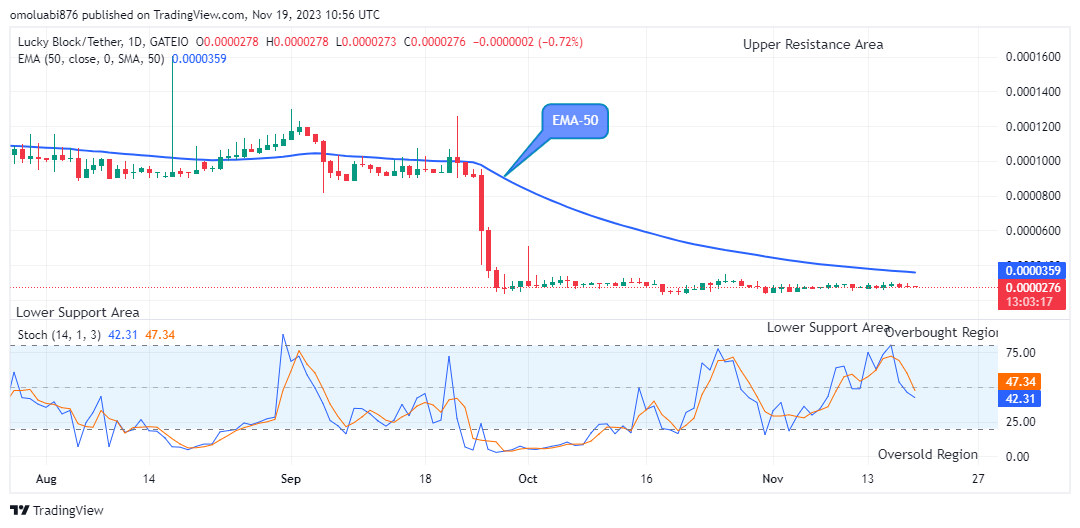 The price drop to the $0.0000280 low value during yesterday's trading session has made the coin price trade below the supply levels in its recent low. This will soon be invalidated and turn up as the coin market now trades very close to the oversold region.

As the daily chat continues today, more bearish moves have now caused the price of Lucky Block to drop to a low at $0.0000273 level below the EMA. However, with this trend, traders may buy the coin at a low price and move the market higher.

Meanwhile, the price of LBLOCKUSD could turn up at the mentioned support level as the market is now approaching the oversold region of the daily stochastic. This means that the selling momentum will end soon and the time to gain more strength by buyers is near.

Additionally, should buyers step into this uncertainty, the LBLOCKUSD price may turn up to reach the $0.0001602 high barrier which could lead the crypto price to a $0.001000 upper high mark in the days ahead in its long-term outlook.

LBLOCKUSD Medium-term Trend: Bearish (4H Chart)
The Lucky Block pair is also showing a bearish sentiment in its medium-term time frame. The price actions can be seen below the moving averages. However, this trend could turn up soon as the crypto price is now oversold.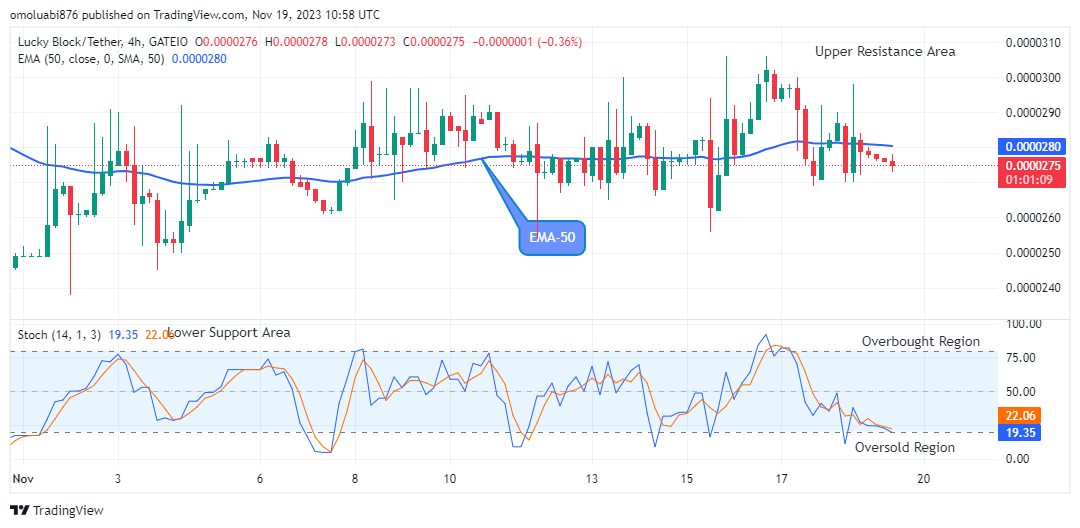 The bearish pressure on the crypto market at the $0.0000277 support value below the moving averages in the previous action has retained the coin price in the bearish trend in its recent low.

The coin plummeted beneath EMA-50 at the $0.0000273 support level as the 4-hour chart resumes today. Hence, an upside breakout above the $0.0000306 mark with a 4-hour candle closing will offer buyers a solid foothold to push the LBLOCKUSD price higher.

Additionally, the price of Lucky Block could turn up from the $0.0000273 support value as soon as the market selling pressure is exhausted. This will compel buyers to resume and turn up the market value of the coin.

Thus, the upcoming bullish correction rally might possibly reach the significant level of the $0.001000 supply mark in the coming days in its medium-term time frame.

You can purchase Lucky Block here. Buy LBLOCK